The Alps are long. About 1200 km long. Unfortunately, the mountain range is still not quite long enough, since it stops just short of Vienna.
So you won't see any snow-capped Alpine giants by staring out of your hotel window. But you can visit the Alps quite easily from Vienna. In fact, it makes a pretty decent day trip. Here's how…
Where are the Alps?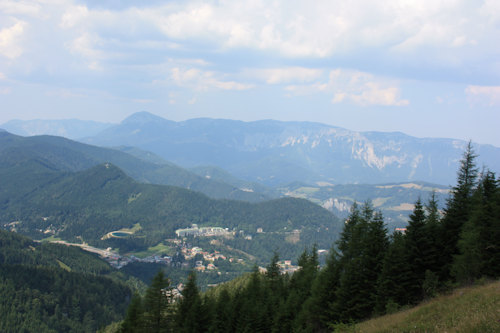 (The hills are alive, apparently)
You tend to think of cities like Salzburg and Innsbruck when anyone mentions the Austrian Alps, but the mountains actually stretch across much of the country from the west, petering out just before they reach Vienna.
I've marked the three typical Alpine destinations the Viennese go to for weekends and day trips (Semmering, Rax, and Schneeberg) on the map below. As you can see, they all lie within 80 km of the city center as the crow flies and a little over an hour away if you hire a car*.
(We actually get our water through direct pipelines from these nearby mountainous areas.)
How to get to the Alps from Vienna
Before we continue, a word of warning.
If you're going into the mountains, be sure to check travel and weather conditions, then adjust your plans and gear accordingly. In particular, ensure you have the right footwear if you're planning to walk around Alpine terrain. Check with the local tourist offices for advice.
Schneeberg
The Schneeberg mountain is the easiest to reach by public transport.
Basically, you catch a train to "Puchberg am Schneeberg" from the Hauptbahnhof (main station) in Vienna. You have to change once in Wiener Neustadt, but the whole journey only takes about 90 minutes.
Ad:
Helpfully, the rail service that takes you up the actual mountain leaves next door to the station.
The Salamander train, named for its unique colours, carries you up to 1800m above sea level. The top has walking trails as well as a restaurant (!).
The service does not operate all year round; the main season runs from around late April into November, though you may find special trips available out of season.
Check for current details, timetables, etc. here. With a bit of luck, you can catch an old steam locomotive travelling the same line.
The town Puchberg am Schneeberg is a little over an hour's drive from the centre of Vienna (traffic notwithstanding). Check their official tourism website for directions, plus up-to-date info on facilities, costs, getting there etc..
Semmering
This is where Viennese day trippers go skiing.
(This needs no caption)
A mini cable car takes you from the town up into the mountains. This service normally runs every day in the winter season (it's a proper ski resort with lifts and slopes) and high summer, but has a restricted service at other times.
Yep, the top station has a restaurant next to it.
Semmering is on the main S6 road that branches off from the A2 Sudautobahn (southern motorway) out of Vienna, again somewhat over an hour's drive from the city.
Trains go direct to the resort's railway station from the Hauptbahnhof. The train journey is actually slightly shorter than for Schneeberg, but it's a 25-minute walk to the cable car station (or jump in a taxi. Look out for possible shuttle buses too).
Check the official Semmering tourism website for current travel info, facilities, timetables, prices, etc..
Rax
A cable car service takes you up to the Rax alpine mountain hiking area at around 1600m above sea level. It operates most days at frequent intervals but sometimes closes for a period (I'm guessing for maintenance). Check current timetables, prices etc. here.
Your target railway station is Payerbach-Reichenau, reachable from Vienna's Hauptbahnhof station.
The train journey time varies but can be as little as somewhat over an hour. Then you have to get to the cable car station, which is 6+ km away, so you'll need to catch a bus or taxi, for example.
A car journey direct to the cable car station from Vienna takes around 75 minutes. Check the official Reichenau an der Rax website for local information.
The Viennese hills
Incidentally, Vienna has its own range of hills in the west of the city. The tallest is Hermannskogel at around 542m above sea level. Not quite Alpine levels of natural grandeur, but the forested areas in particular look rather wonderful in autumnal colours or after snow.
Some of the official city hiking paths include these hills. Berg means hill or mountain in German so look for routes that have that word in place names (e.g. routes 1 and 1a to Kahlenberg and Leopoldsberg respectively).
Other useful links