Imagine if Vienna's Schönbrunn and Belvedere palaces had a love child, then brought it up in the country to avoid suspicion at court. That's Schloss Hof.
Beautifully maintained mainly 18th-century country residence largely established by Prince Eugene of Savoy
Lovely staterooms, gorgeous gardens and a fun estate attached
Reachable in just over an hour from Vienna by car or train+bus
See also:
A baroque country manor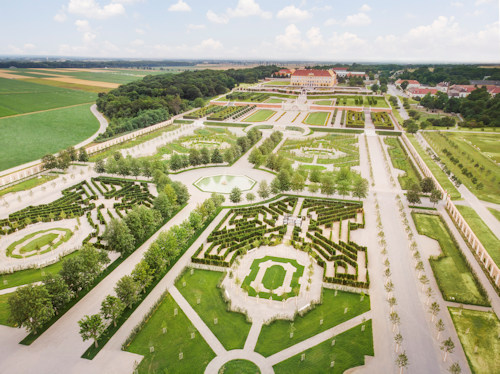 (Schloss Hof Estate Baroque Garden © Schloss Schönbrunn Kultur- und Betriebsges.m.b.H. / Severin Wurnig)
It took me 25 years to get around to visiting Schloss Hof. I'm an idiot.
Think of it as a 3-in-1 toy: a large country palace with staterooms rich in history, a beautiful set of gardens, and an estate full of all sorts of surprises, from hammocks to hidden rose gardens.
If you want to get away from the city, but still immerse yourself in the delights of the past and the artistry of palace gardeners (or just entertain the kids with a petting zoo), then this is the place.
The palace
Prince Eugene of Savoy, master military strategist to the Habsburgs, bought Schloss Hof in 1725 and set about turning it into a Baroque country estate fit for a king (or an Empress, as it turned out).
Eugene already had the Belvedere palaces in Vienna, but you like a little somewhere to escape to in summer. Although "little" probably isn't the right word for the 80ha complex with its large house and surrounding park and gardens.
After Eugene's death, the Schloss Hof estate eventually passed into the hands of Empress Maria Theresa and her son, Emperor Joseph II, in 1755.
(View from outside the estate walls)
The restored staterooms within the palace alternate between how they looked in Eugene's time and how they looked once the new owners had repurposed the bachelor pad for their own needs.
Unlike most of the palaces in Vienna, the display information is considerably less simpering about the owners.
So you learn about the history and décor of each room from the perspective of Eugene and the monarchs, but also from that of an objective narrator.
Couple that approach with interesting displays offering a dispassionate review of Eugene (the man, the myth, the legend) and you have a refreshing, rounded, thoroughly enjoyable experience that informs, entertains and, inevitably, wows with the gorgeous decor and architecture.
Keep a particular eye out for:
The Bed Chamber / Sitting Room, with its glorious views across the estate
The chapel in all its baroque marble and gold splendour
The banqueting hall and its late 18th-century neoclassic stucco
(Though all you really need to know about the Schloss Hof palace is that a patisserie appears inside if you catch the right day and season.)
The Gardens
(Große Kaskade © Schloß Schönbrunn Kultur- und Betriebsges.m.b.H. – Hertha Hurnaus)
Plenty of formal gardens invite you on a botanical walk. Best seen, I think, by exiting from the palace's Sala Terrena, which is what a white Wedgwood plate would look like if it was a room.
Step out onto the terrace for a view across to Slovakia. Curls of coloured stone weave their way through mini box hedges and plant beds; the mix of flowers manages the trick of seeming both random and strictly organised. The result is mightily impressive.
And then you walk on and discover the rest: more terraces, more flower beds, rows of regimented trees, and enough fountains to make a thousand wishes (or possibly just three or four).
The estate and outbuildings
(The southern estate gates if I recall right)
Schloss Hof makes a lot of effort to keep the kids entertained, with interactive adventure trails, numerous animals, and similar. The estate buildings and park have all sorts of nooks, crannies and surprises to explore.
So you might suddenly find yourself face-to-face with a camel, goat, donkey or even a Lipizzaner horse (the breed of Spanish Riding School fame).
You might wander into a herb garden for a rest or into a country restaurant for a beer.
You might browse a shop full of local crafts and delicacies, or watch wild ground squirrels emerge from their burrows.
You might follow a trail to learn about the life of a stable boy or serving maid.
Or you might argue about rights of way with a family of free-ranging turkeys (as happened to me).
Ticket and visitor tips
A standard adult entrance ticket to Schloss Hof varies in price between summer and winter seasons (at the time of writing, €17.50 for winter 23/24). The Vienna Pass sightseeing ticket also covers one-time entry.
The "summer" ticket entitles you to visit the nearby Schloss Niederweiden as well: an imperial hunting lodge which is bigger and prettier than that description suggests.
Schoss Hof often hosts a special exhibition. As I write this, for example, it has one planned for much of spring, summer and autumn 2024 that takes a closer look at Imperial weddings..
How to get to Schloss Hof
By public transport
By definition, a country estate is, well, out in the country. But a regional bus service takes you to Schloss Hof in about ten minutes from the nearest rail station (Marchegg).
The easiest way to reach Marchegg station is on a direct train from Vienna's main station (Hauptbahnhof). The journey lasts around 45-55 minutes.
Check the Schloss Hof website for the bus timetable, as well as more detailed travel options.
By car
The palace takes a little over an hour to reach by hire car* from Vienna's centre (assuming friendly traffic conditions).
Take the road out to the airport, east of Vienna, which puts you on the A4 motorway.
Once past the airport, turn off at Junction 19 down the B9 road and pass through Petronell-Carnuntum and Bad Deutsch Altenburg (you can do as I did and stop off en route to visit the Carnuntum Roman park).
Then you want to turn onto the B49 to cross the Danube river. About 7km later you'll reach Schloss Niederweiden, which is where you turn off to go on around 3km to Schloss Hof.
Address: Schloss Hof 1, 2294 Schloßhof | Website