You see a lot of architectural and historical terms bandied around in Vienna. Baroque is one of them. You may already be familiar with this particular era and style. But if not, then read on…
Highly-decorative design approach from the 17th and early 18th centuries
Found in many famous palaces, townhouses, and churches throughout the city
See also:
What is Baroque?
(A Baroque townhouse on Vienna's Am Hof square)
The term Baroque is a particular style and era applied to various art forms. So, for example, you'll find Baroque paintings by such grand names as Caravaggio in Vienna's Kunsthistorisches Museum.
Most visitors to the city encounter Baroque in the form of architecture and interior design, which broadly covers a period from the early 17th century to the mid 18th century.
Essentially, Baroque takes your everyday architectural elements and sprinkles fairy dust on them.
For example, no boring plain ceilings with their simple arches. Instead, you have frescoes everywhere, often creating the illusion of three-dimensions.
Simple stone steps? So 16th century. We need magnificent staircases that scream "disposable income".
The classic characteristic of Baroque architecture is strong use of decorative elements, such as sculptures and reliefs.
Baroque rooms might be full of marble, stucco and gilded objects. (Lots and lots of gilded objects.) "Leave no space undecorated" might have been the prevailing motto.
The results can be breathtaking but also overwhelming.
You may also see the term Rococo. I'm not sure on the difference, but I believe Rococo design refers to the tail end of the Baroque period and takes the decorative approach to even greater extremes.
The Baroque style has its origins in the efforts of the Catholic church to fight back against the march of Protestantism. Consider it the architectural equivalent of "shock and awe" tactics.
Why is it important?
(Upper Belvedere Palace)
The importance in Vienna stems from the simple fact that numerous historical buildings in the city, particularly palaces and churches, can be considered Baroque.
The style came a little later to Austria than to, for example, Italy, and reached its pinnacle in various wonderful constructions from the early 1700s. So Vienna's Baroque buildings pre-date, for example, the times of the Austrian Empire, Austria-Hungary, and Emperor Franz Joseph.
(Many of Vienna's famous landmarks, like the State Opera House, actually went up during the huge period of (re)construction at the end of the 1800s. They often look older than they are, though, thanks to the historicism approach to architecture popular at the time.)
Where to see Baroque architecture
(Palais Lobkowitz)
One way to appreciate the contrast in styles between Baroque and its predecessors is to pop into the Michaelerkirche church. The church itself is not Baroque at all, dating back to the 1200s. But one of the side chapels is early Baroque, so you have the contrast playing out right in front of you.
Palaces and town houses
Several of today's most popular tourist attractions in Vienna date back to the Baroque era. For example:
The State Hall of the National Library: this huge room is so richly decorated and impressive that you would never dare raise your voice above a whisper even if it wasn't a library.
Belvedere: perhaps the best example of non-ecclesiastical Baroque architecture in Vienna. The Upper and Lower palaces both date from the late Baroque period. Home to some exceptional art, too
Schönbrunn Palace: the late Baroque/Rococo summer residence of the Habsburgs and a World Heritage site.
If you're happy to leave Vienna, the delightful Schloss Hof estate is a Baroque palace and gardens about an hour's drive from the city.
A number of palais townhouses from the Baroque period survive. Here two of the more prominent examples:
Palais Kinsky: built around 1716 under the auspices of Johann Lukas Hildebrandt (Belvedere's architect). Look particularly at the heavily-decorated entrance portal.
Palais Lobkowitz: one of those rare townhouses you can actually go into, because it's the home of Vienna's Theatre Museum. Beethoven regularly played here.
Churches
(Karlskirche)
Quite a few Baroque churches pepper Vienna. The more notable examples around the centre include:
Peterskirche: another late example with an extraordinary interior with many classic Baroque elements, including light effects and illusionist paintings. A super concert venue, too.
Schottenkirche: first consecrated in 1200, but the interior is largely mid-17th century.
Annakirche: an older church that underwent a remarkable Baroque transformation in the early to mid-18th century. Quite spectacular inside and another concert venue
Karlskirche: a huge late Baroque church with a rather unique exterior thanks to its relief-filled twin columns. And (drum roll) another venue for classical music concerts.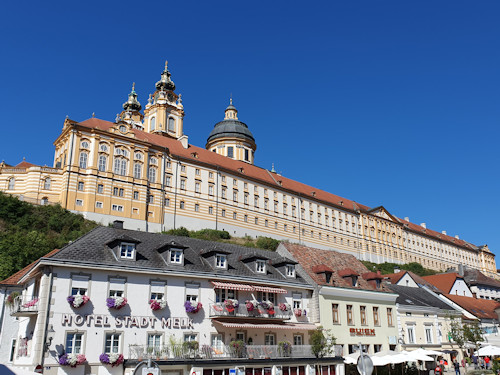 (Melk abbey viewed from below)
Finally, as with Schloss Hof mentioned above, a short excursion into the country takes you to another remarkable Baroque ecclesiastical option open to the public: Stift Melk.
This huge, pristine and glorious abbey has a long history that includes total reconstruction in the early 1700s.