One royal name pops up more than most as you wander around Vienna: Emperor Franz Joseph. So here's your quick primer on why this is…
One of the longest-serving monarchs in history (reigning 1848 to 1916)
Driving force behind numerous important buildings in Vienna
Married to the iconic Sisi (Empress Elisabeth)
Famous inhabitant of the Schönbrunn and Hofburg palaces
Fan of various traditional Viennese dishes still eaten today
See also:
Who was Franz Joseph?
(Emperor Franz Joseph, sporting his trademark moustache and sideburns. Photo courtesy of the Library of Congress)
Born in 1830, Franz Joseph became Emperor of Austria in 1848 and went on to reign for almost 70 years until his death in 1916. He was the last "great" monarch of the Habsburg dynasty.
This extended period of rule gave him ample opportunity to stamp his mark on Vienna (the empire's de facto capital).
Inevitably, plenty happened during Franz Joseph's reign. For example, he only came to power because his childless uncle (Emperor Ferdinand I) abdicated in his favour in the wake of the 1848 revolutions that affected much of Europe. And, of course, he died with his realm embroiled in World War I.
Franz Joseph faced a fair bit of conflict throughout his rule. He lost the Austro-Prussian war of 1866, and nationalist tendencies in the different lands of the monarchy caused him plenty of sleepless nights.
These problems led to increased autonomy for Hungary and the reorganisation of the Austrian empire as Austria-Hungary in 1867.
But long periods of relative peace and stability also allowed the growth of the arts, science, and industry, including the development of, for example, Viennese Modernism with such proponents as Gustav Klimt.
(Not that Franz Joseph was necessarily a fan of all the modernist developments.)
Incidentally, Franz Joseph's nephew and successor (Karl I) failed to enjoy quite the same longevity; the end of WWI in 1918 also saw the demise of the Habsburg monarchy and the creation of a republic.
Why is Franz Joseph important?
Obviously Franz Joseph stuck around for a significant part of Vienna's recent history. But he also has close associations with various sights and experiences favoured by visitors to the city.
Historical buildings
(The famous Riesenrad)
Many of Vienna's iconic sights went up during Franz Joseph's time in charge. They built the Riesenrad giant Ferris wheel, for example, in honour of the 50th anniversary of his coronation.
Most importantly, Franz Joseph gave his stamp of approval to the monumental developments of the late 1800s, when Vienna took down its city walls and opened up the surrounding space for construction.
This period is when the State Opera House, Rathaus, Kunsthistorisches Museum, Naturhistorisches Museum, Parliament building, and many other popular tourist attractions appeared along the wide boulevard (the Ringstrassen) that replaced the fortifications.
As such, Franz Joseph was (in)directly responsible for much of what you might consider the trademark Vienna historical cityscape.
Schönbrunn and Hofburg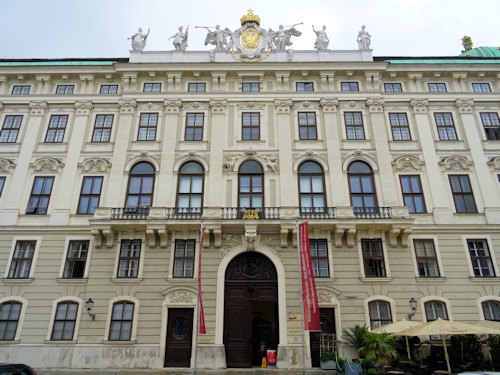 (Part of the Hofburg complex)
The two main Habsburg homes in Vienna – Schönbrunn Palace and the Hofburg complex – existed long before Franz Joseph popped into the world.
However, a tour of the Hofburg takes you through numerous rooms used by the Emperor, complete with original décor and furnishings from that particular era. The same applies to a tour of Schönbrunn.
Both locations combine remarkable items of history with insights into the daily life and character of both Franz Joseph and his wife. Which brings us to…
Sisi and family tragedies
(Franz Xaver Winterhalter, Kaiserin Elisabeth, undated. Photo courtesy of and © Belvedere, Wien. Reproduced with permission under the terms of Creative Commons License CC BY-SA 4.0. Photo by Áment Gellért)
You might argue that Franz Joseph's biggest contribution to Viennese history and tourism was to marry the 16-year-old Elisabeth Amalie Eugenie of Bavaria in 1854.
Empress Elisabeth (known as Sisi) has become more of an icon than her husband, thanks to her beauty and fairytale-like ascension, but also through her struggles against court life and various personality issues.
So we have, for example, a Sisi museum in Vienna, a Sisi exhibition and various other Sisi locations. And her story gives those imperial rooms in the palaces far greater importance than they might otherwise have earned.
Sisi died at the hands of an assassin in 1898, one of several personal tragedies to strike Franz Joseph. The Mexicans executed his brother, Maximilian, in 1867. He lost his only son, Crown Prince Rudolf, in 1889. And the 1914 assassination of his nephew and heir apparent, Franz Ferdinand, in Sarajevo famously triggered World War I.
Food
(Kaiserschmarren: a popular Austrian dessert much loved by Franz Joseph)
Finally, we should also give a nod of acknowledgement to Franz Joseph for the popularity of various traditional Viennese dishes you might sample during a visit.
Allegedly, Franz Joseph's culinary preferences explain why such delights as Tafelspitz (boiled beef), Gugelhupf (a kind of marble cake) and Kaiserschmarren (shredded pancake) still feature in family kitchens and restaurant menus here.
P.S. To learn more about the Habsburgs in general, check this guide.