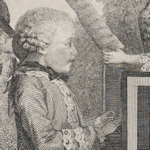 This beautiful building from the early 18th century continues a long musical association that dates back to the days of Mozart and beyond; Palais Auersperg is one of Vienna's Baroque jewels.
NB: Event details can change at short notice, so check with official homepages for up-to-date info and their current COVID status/test requirements.
A baroque palace
Palais Auersperg began life around 1710 as Palais Rofrano. The change in name came about toward the end of the same century following the building's purchase by Prince Johann Adam Auersperg.
The palais is one of many historical architectural delights in Vienna not open to the public as such. Instead, it's a prestigious private event location used for congresses, fairs, balls and more, including regular classical concerts and a popular gala on New Year's Eve.
Mozart, Gluck, and WWII
Like many city townhouses, Palais Auersperg played its part in Austrian history. Emperor Franz Joseph and Empress Elisabeth danced here, for example, and one of the leading groups in the Austrian freedom fighter movement met inside as World War II drew to a close.
On the music side, a former occupant – Field Marshall Joseph von Sachsen-Hildburghausen (1702 – 1787) – was a patron of Christoph Willibald Gluck.
The Field Marshall employed Gluck as Kapellmeister (musical director) for several years. And we know that in 1786, for example, Palais Auersperg hosted at least one performance of Mozart's opera, Idomeneo.
Ad:

We can't be sure, but it seems very likely that Mozart would have graced the occasion with his presence. It's more certain, however, that he made alterations to the work specifically for the palais production.
Those were the days when formal concert venues like the Musikverein did not exist. Instead, musical performances often took place in the private homes of the rich and aristocratic. A little like Beyoncé penning a new song and then turning up at your house to give a rendition.
The Mozart connection continues today: one of the event rooms bears the name, Idomeneo Saal, and the Vienna Residence Orchestra often performs there.
They also say one of the main characters in Richard Strauss's opera, Der Rosenkavalier, took its inspiration from the family who first built Palais Auersperg. Another event room – the Rosenkavaliersaal – pays tribute with its name.
How to find Palais Auersperg
The palais is quite central and very close to such sights as the parliament building, the Rathaus, and the Museumsquartier (so not hard to find).
Subway: the nearest station is Volkstheater on the U2 and U3 lines. Take the station exit leading away from the city centre and walk up Museumstraße
Tram/bus: the Auerspergstraße tram stop sits more or less at one end of the building and is served by the 46 tram line.
Address: Auerspergstraße 1, 1080 Vienna | Website