The city has a musical heritage like no other and one that continues today. So where can you find the right classical music concert for your stay in Vienna?
Your choices:
Concerts for Visitors
(The Kursalon venue)
---
Personal tip: Classic Ensemble Vienna
---
Several orchestras, ensembles, and venues provide a short (or long) evening of concert entertainment in a historical ambience specifically for those on a quick trip to Vienna.
These concerts typically feature light classical music covering the better-known works of Mozart, Strauss (II) and other composers connected to the city (we have a lot).
Venues include:
The Kursalon
The Renaissance-style Kursalon hosted waltzes back when they were the new music craze sweeping the nation empire. It revisits that history with evening concerts. Take the opportunity to grab a photo with the famous golden statue of Strauss outside (he used to perform at the Kursalon). (Visitor and concert info)
Musikverein
Actually the city's most important classical venue (see below), but the Vienna Mozart Orchestra uses the ambience and acoustics of this 19th-century building to deliver a "best of" Mozart while dressed in period attire. They often move to the State Opera House for part of August. (Visitor and concert info)
Schönbrunn Orangery
Playing a little music at home means something quite different when you're a monarch. For Emperor Joseph II, for example, it meant inviting Mozart to perform a new piece in the Orangery of Schönbrunn Palace. Public concerts continue that tradition today. (Visitor and concert info)
Annakirche
A central (and gorgeous) church with an exquisite Baroque interior that has regular concerts. The Classic Exclusive series, for example, features works by those composers traditionally associated with Vienna, such as Mozart, Haydn, and Beethoven. (Visitor and concert info)
Peterskirche church
The astonishing Baroque ornamentation of the Peterskirche offers a gorgeous setting for a classical music concert. The Classic Ensemble Vienna performs within regularly. Best of all, the church is right in the middle of town, so easy to reach. (Visitor and concert info)
Ad:

Deutschordenshaus ("Mozart house")
The Sala Terrena room of the Teutonic Order hosts classical concerts by the Mozart Ensemble Vienna. Mozart himself once lived in this ecclesiastical complex while employed by the Archbishop of Salzburg. Brahms also stayed there.(Visitor and concert info)
Mozarthaus
A vaulted venue lies within the Mozarthaus, a museum dedicated to Mozart in one of his former homes. It often features concert performances of works composed in the same building. The Wiener Ensemble perform regularly here, for example. (Visitor and concert info)
Karlskirche
This huge and famous Baroque church provides a few unexpected delights. One is a panorama terrace that offers views across the park and beyond into central Vienna. Another is regular performances of Vivaldi's Four Seasons. (Visitor and concert info)
Palais Schönborn-Batthyány
Another Baroque event location, once the home of Count Batthyány and built by the same architect responsible for Schönbrunn Palace. The Vienna Baroque Orchestra has regular concerts there. (Visitor and concert info)
Palais Auersperg
A Baroque palace and now a venue for film productions, conferences, balls, and other events, including regular concerts from the Vienna Residence Orchestra. (Visitor and concert info)
And if all that's not enough, simply keep your eye open for concert flyers, posters, and pop-up sales booths when in town.
Traditional concert houses
(The Musikverein with the Karlskirche church in the distance)
If you're looking for a more "local" experience in one of the concert halls with a programme that changes daily, then Vienna offers, for example, two of the planet's greatest venues featuring world-class performers from around the globe.
The Musikverein
Possibly (probably) the best classical music venue in the world. Names like Brahms and Mahler are intimately associated with this 1870 building that also provides a home for the renowned Wiener Philharmoniker orchestra. (Visitor and concert tickets info)
The Konzerthaus
Another internationally-recognised top venue for classical concerts, the Konzerthaus repertoire also features jazz, world music and various other genres of musical endeavour. The 1913 building has four concert halls, hosting hundreds of events from September to June. (Visitor and concert tickets info)
Ad:

Opera
…and don't forget the opera houses. Vienna has three main venues for opera and operettas:
Other concert venues
(Stephansdom cathedral offers a suitably Gothic and resonant atmosphere for classical concerts)
If you're visiting churches, look out for recitals and similar there.
I already mentioned Karlskirche, Annakirche and Peterskirche (which also has regular organ recitals) for their light classical ensembles.
All the above and other central places of worship usually have a special programme of advent concerts during the Christmas period. For example:
Another tip is the Hofburgkapelle, whose Sunday Holy Mass services include church music provided by one of Vienna's most prestigious musical institutions: the Wiener Hofmusikkapelle (Imperial Court Music Ensemble).
The Vienna Boys' Choir
The Wiener Sängerknaben often perform around Vienna and have their own home, too; their MuTh venue also puts on concerts and plays involving other performers.
Concentus21
Although the professional scene gets all the plaudits and coverage in Vienna, the city has a strong tradition of amateur productions and players bringing the joys of classical music to audiences.
One notable example is the Concentus21 amateur orchestra, which performs in, for example, the undercroft of the Canisiuskirche church.
Take 5
The Take 5 association enables a range of cultural events with international performers, including many classical concerts. Entrance is usually free (though you can – and probably should – make a donation).
Seasonal & annual concerts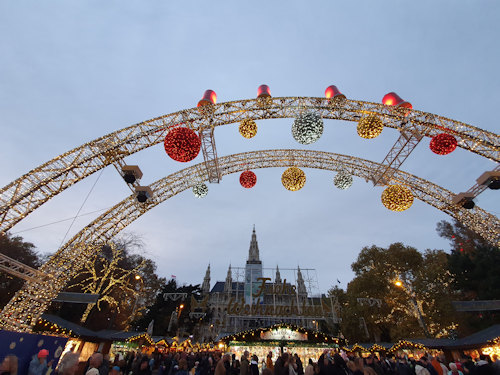 (Entrance of the city's main Christmas market. You might catch a brass band, there)
The advent period sees special classical music events appear throughout the city. These include the traditional Christmas in Vienna concert at the Konzerthaus. See my curated Christmas concert listings (and venues).
A few annual one-off events give you the chance to catch a world-class orchestra (often for free). Try, for example:
Ad:

Classical music festivals
I've just started compiling special festivals around classical music. Check the monthly event overview for suggestions throughout the year
Some examples:
Other alternatives
Street performers
The last couple of times I've been on the Graben (the pedestrianised street at the heart of the city), I've encountered classical street performers, including a small string ensemble and an opera singer accompanied by the flute. Vienna in a nutshell, really.
Film festival
(Part of the gastronomy area)
The Rathaus film festival typically runs from the end of June to the start of September, displaying "films" on a giant screen in front of city hall. The area of the square not taken up by seating is turned over to a gastronomic journey through Austrian and international cuisine.
What's this got to do with classical concerts?
Well, the reason I say "films" (with quotation marks) is because most of the screened entertainment is actually music and a large chunk of that is classical music.
One year, for example, the programme included Verdi's Requiem, the Concert de Paris by the Orchestre National de France, the Wiener Philharmoniker's New Year's and Summer Night's concerts, numerous operas, and many more of that ilk.
And finally…
If all the above isn't enough, the official city tourist site has further events listings.
Look for the "events" icon, which should bring up a search interface. Put in your dates and hit "search" (or "suchen" in German). You can also narrow the search by category. I did a search for classical concerts for a single, random Monday in September and got 20 different options!