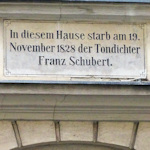 In late 1828, a sick Franz Schubert moved into his brother Ferdinand's apartment on the second floor of a brand new house on Kettenbrückengasse, now known as the Schubert Sterbewohnung (English: Schubert's Place of Death)
Small, three-roomed museum featuring various items from Schubert's life and (mostly) death
You can see the room where the composer passed away
See also:
What's inside?
(Schubert spent his last days inside this building)
Ferdinand's home proved to be Schubert's final residence: the composer died a few weeks after moving in, aged just 31, on November 19th, 1828. They held the funeral two days later.
The Wiener Zeitschrift für Kunst, Literatur, Theater und Mode magazine wrote on the 25th (my rough translation):
On the 21st of November, the composer Franz Schubert was laid to rest. He died of Nervenfieber1 in the prime of both his life and work, after a short illness…

1old term typically used for typhoid fever or dysentery
The same source declared him (again, my rough translation):
…unsurpassed in Germany as a lyrical composer and ranked far higher than Zumsteeg in terms of the depth of his genius and his original approach
(Johann Rudolf Zumsteeg was a late 18th-century German composer and one of Schubert's influences.)
The house is still there, beautifully renovated, and the apartment has become a small museum under the auspices of the city's Wien Museum group of sites.
Ad:

Inside are three fairly spartan rooms, with creaking wooden floors and whitewashed walls.
Despite the absence of much furniture, it all feels very real. There's something strangely absorbing about standing in the smallest room knowing that Schubert wrote his final letters and compositions here before passing on.
The first antechamber has general information in English, but after that it was all German on my visit. So it's tricky for the non-German speaker to grasp the significance of the various items on display (many of which are reproductions). These include:
A lock of Schubert's hair
A piano belonging to Ferdinand you suspect Schubert might also have played on (imagine!)
Reproductions of original sheet music, including for Taubenpost, the last song he wrote: you find yourself looking closely to see if his hand was already shaking
An original invite to the requiem mass
(Exhibition view; press photo by Lisa Rastl and © Wien Museum)
Especially poignant is a copy of a letter Ferdinand wrote to his father quoting Schubert on his deathbed, interpreting the musician's exclamations as a wish to be buried next to Beethoven: a wish that was duly granted.
A record of Schubert's estate makes for sad reading: essentially just a few items of clothing (and a mattress) that didn't even cover outstanding medical and funeral expenses. The classic penniless artist.
All-in-all it only takes a few minutes to look through the three rooms, but you probably need to be a Schubert aficionado (or a German-speaker) to really appreciate what you're seeing.
Tickets & visitor tips
An adult ticket costs €5 at the time of writing, or get one-time free entry with a Vienna Pass (read a review).
A couple of tips:
The museum occupies part of the second floor of the house
The other apartments remain occupied, so the museum entrance is like a "normal" house entrance: you have to ring the bell to open the door leading off the street. And then you ring another bell inside the (lovely) courtyard to open the door that leads up two flights of stairs to the museum
The ticket office has a very small selection of souvenirs, like postcards
Opening hours are fairly limited, so check with the official website (see below) before visiting
How to get to the Sterbewohnung
Subway: the Kettenbrückengasse subway station, which is on the U4 line, is only a short 5 minute walk away.
Tram/bus: You can also take the 59a bus to the stops Schönbr. Str./Kettenbrückeng. or Preßgasse.
(Trace your steps back to the Kettenbrückengasse station afterwards and go on past to find the Majolikahaus: a remarkable example of Jugendstil architecture by Otto Wagner.)
Address: Kettenbrückengasse 6, 1040 Vienna | Website