A month like the day before your birthday. In October, everyone in Vienna stares impatiently into their coffee while waiting for the advent festivities to start. But October has its own appeal, with, for example, the city's parks and woodlands ablaze with autumnal colour.
Top activities in October 2023
Most of Vienna's tours, concerts, museums and similar remain available all year. But what can October offer in particular?
Exhibitions
(The Kunsthistorisches Museum always has a super year-end exhibition)
October sees the heavyweight exhibitions in full swing, ready for the Christmas visitors. Selected highlights announced so far include:
The Albertina looks to have an exhibition on Michelangelo focusing on his drawings of the human form and their influence on both his contemporaries and later artists. They also plan a solo exhibition for Gottfried Helnwein from late October and continue one for Joel Sternfeld
The Albertina Modern offers up an exhibition for Yoshitomo Nara focusing mostly on his drawings
Another major event planned (from October 12th) is a Robert Motherwell exhibition at the Bank Austria Kunst Forum Wien
And the Kunsthistorisches Museum's big year-end exhibition deals with monumental Renaissance tapestries. Also enjoy, for example, the final days of In Love with Laura there (a detailed look at a rare coloured renaissance female bust until October 15th) and the special coins exhibition
Ads:

The Leopold Museum starts two new exhibitions in October:

A solo exhibition for expressionist Max Oppenheimer (from the 6th)
A retrospective for Gabriele Münter (from the 20th)
The Weltmuseum places its own special perspectives on Science Fiction(s). It also has, for example, a solo exhibition for Maximilian Prüfer and modern Japanese calligraphy
The Jewish Museum explores the dimensions of guilt (until October 29th), examines the artistic legacy of Maria Austria, and introduces Jewish fan culture at some top European football clubs
Discover the contemporary art of the first decade of the 21st century in a Noughties exhibition at the Wien Museum MUSA (from October 19th)
Then go further back to compare and contrast post-WWII design in East and West Germany at the Furniture Museum
Finally (for the moment), the Baroque state hall of the National Library takes us on a gentle historical stroll through design and landscaping in the context of gardens and parks
Enjoy the autumn colours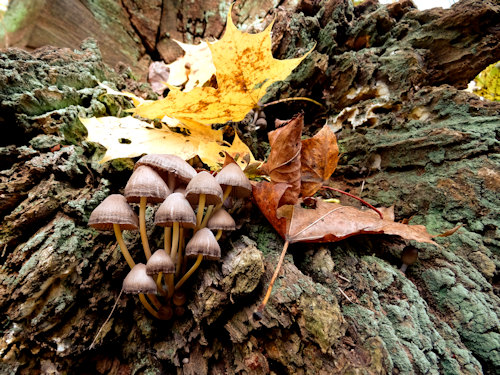 (Spotted on a woodland walk)
Autumn turns the city's trees into swirls of yellows and reds. And we have a lot of trees. For some seasonal ambience, consider:
The Vienna woods: these dominate the western edge of the city, but you needn't travel far from the centre to enjoy nature's transformation. Try, for example, the Stadtpark, where the Strauss statue adds another golden hue to October's colours
Continue the autumnal feeling at the Wiener Herbsttage Viennese Autumn Days (October 13th to 15th) in the palm house and surrounds of the Burggarten park. Expect rare fruit varieties, arts, crafts, and edibles
World-class tennis
The Erste Bank Open tennis tournament (won by Daniil Medvedev in 2022) takes place toward the end of the month (October 21st to 29th). Held in the Stadthalle, the prestigious event is an official ATP 500 tournament.
Geek heaven
If you prefer your sports on a PC or console, then consider Game City (October 13th to 15th). This huge gaming fair occupies the Rathausplatz square and features eSports events, cosplay, and numerous stands showcasing the latest games and gaming hardware. Entry is free.
Museums, but not as you know them
(Numerous locations participate)
This is a fun event.
A whole bunch of Vienna's museums traditionally throw open their doors late and usher you in to experience special tours, displays, and/or entertainment one evening in October.
A lovely buzz runs through the city during this Long Night of Museums (October 7th), which the ORF state broadcasting company organises. Thousands mill the streets with a single ticket covering entry to any participating museum.
Talking museums, major art exhibitions normally begin in October to capture the Christmas traffic (scroll back up the page for suggestions).
The silver screen
A couple of October highlights will appeal to fans of cinema:
Vienna's leading film festival, the long-running Viennale, has all the accoutrements you expect of such an event: prestigious prizes, special guests, national and international pre-release films, etc. (October 19th to 31st)
The SLASH film festival invites you to discover the darker and more fantastical side of the silver screen (September 21st to October 1st)
Form and function
(We enjoyed our visit in 2022)
October also traditionally hosts art & design events:
The international Blickfang design fair (October 20th to 22nd) displays the work of independent designers in various fields…from fashion to furniture. You can buy what you see and, most importantly, usually discuss the pieces with the designers themselves
Design is the watchword at Pots und Blitz (October 6th to 8th), which has around 40 artists and artisans presenting ceramics and porcelain for you to admire and buy
The Edelstoff design market visits the Marx Halle for its autumn edition (October 7th and 8th)
FAIR FOR ART Vienna is an art and antiques fair that drops into the historical Aula der Wissenschaften (October 7th to 15th)
Parades and displays
October 26th is Austria's official national holiday. So you may find parades and other events around the town centre.
The Austrian army typically puts on one or more displays on Heldenplatz and elsewhere, while the emergency services and other public safety organisations present their work on the big Rathausplatz square in front of town hall at the Wiener Sicherheitsfest.
Music and more
(Get ready to rock)
There's no better time to hold an Oktoberfest than, um, in October. A Vienna equivalent is the Wiener Wiesn Fest (next dates TBA; the new Kaiser Wiesn event started up in 2022 at a similar location and runs until October 8th in 2023). So pack your Lederhosen, gentlemen and your Dirndls, ladies. There will be much feasting and music.
If you prefer electric guitars and synthesisers to accordions, then take in the Indie Label Woche (2023 dates: TBA). The Reigen music venue hosts rock to pop to punk to hip hop (and more) across six nights of gigs showcasing local talent.
Enjoy.