The Upper Belvedere palace claims all the glory with its Klimts and Schieles, but its smaller cousin at Lower Belvedere also combines quality art exhibitions with classic Baroque architecture.
Lower Belvedere's history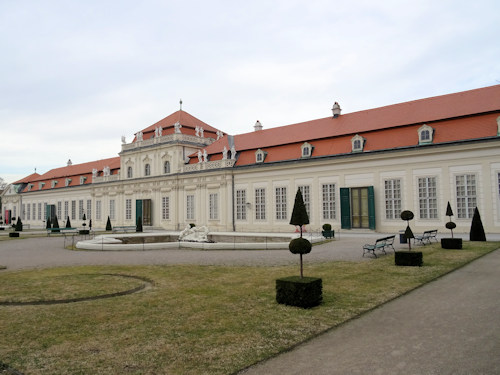 (Rear view of Lower Belvedere palace)
This U-shaped palace at the southern end of the main Belvedere gardens was completed in 1716 under the watchful eye of architect and military engineer, Johann Lukas Hildebrandt.
With Upper Belvedere palace largely for show, Lower Belvedere served more pragmatic functions. Though if that sounds like it was all bare walls and dustbins, you couldn't be farther from the truth.
(A lot of us have crockery for daily use and the crockery we bring out for visitors. Prince Eugene seemingly applied the same principle to palaces.)
Architectural highlights
So what's inside this Baroque residence?
Well, the building hosts high-quality, temporary art exhibitions and many of the rooms are now fitted out like a modern gallery. But many also still contain Baroque elements (like a decorated ceiling) or retain pretty much all their original and magnificent glory.
So don't feel a visit is wasted just because the current exhibition fails to get your adrenaline flowing: the palace has plenty else to see inside.
Ad:

West wing highlights
Leaving the ticket area takes you into the hall of grotesques (Groteskensaal) with its patterned marble floor.
Despite the name, no disfigured mummies or similar lurk within. "Grotesque" refers to a fanciful style of decoration popular in Ancient Rome, with flowing, quasi-floral patterns featuring botanical, zoological and mythological elements, often with caricatures.
This room is essentially one giant grotesque painting. The style also appears in Prince Eugene's Winterpalais residence in the city center (no longer accessible to the public, unfortunately).
Moving off to the right takes you through the west wing to the marble gallery, golden room, book cabinet, and then the exit to the Orangery and stables.
Marble gallery (Marmorgallerie)
As the name cunningly suggests, the floors and walls here are marble, interlaced with stucco reliefs. Imagine a Wedgwood plate made into a room. Large mirrors at either end add a white marble vastness to the ambience.
This room also serves as your introduction to the two themes that permeate much of Belvedere: military victories and the vanity of Prince Eugene.
The ceiling includes a relief of said Prince receiving a laurel wreath from an angel, while a manifestation of peace drives away envy and hate (presumably modesty ran off much earlier).
It's not the last time you'll find depictions of the house's owner basking in the glory of his military genius. Though to be fair, he earned it.
Golden room (Goldkabinett)
Originally a conversation room, this room was later decorated with gold walls, giant mirrors and grotesque paintwork, possibly making conversation impossible thanks to sensory overload.
Stand in front of the opposing mirrors and you see a never-ending cascade of gold and colored arches that exude imperial opulence and grandeur (the adaptations took place after Eugene's heir sold the palace to Empress Maria Theresa).
It demands an awful lot of self-control not to take a selfie in front of those glorious mirrors.
(The book cabinet that follows isn't very big, although Eugene did apparently have a very large book collection..)
East wing highlights
You can leave the book cabinet to view the Orangery and stables with their art displays. Or return back to the hall of grotesques and go the other way through the palace.
Most of the rooms beyond are modern, gallery-style exhibition display rooms. But with some rather wonderful exceptions.
So you may discover a marble-edged ceiling painted to look like a giant stone dome. Most importantly, of course, the marble hall provides the centrepiece (literally and figuratively) of Lower Belvedere palace.
Marble hall (Marmorsaal)
This large two-storey hall feels like Prince Eugene's personality expressed in marble and stone.
Sit on one of the benches and let your eye wander across the numerous reliefs depicting hard-earned military trophies, statues of shackled enemies, and balconies and alcoves that turn out to be clever paintings designed to create architectural illusions.
And, of course, the ceiling fresco has Eugene receiving honors from the Pope via the God, Mercury. It's all rather impressive.
So let us forgive Eugene his vanity, because without it we wouldn't have this Baroque splendor to marvel at. And remember – Lower Belvedere is the more functional palace!
Tickets & visitor tips
See the main Belvedere article for prices, etc.
Unfortunately, Lower Belvedere is closed for renovations and technical improvements until some time in late 2021 (?)
The main entrance gates lead directly off the road (Rennweg) to the large courtyard with the palace entrance on your right. Here you can pick up your tickets.
The floor below the ticket office has toilets, a serviced cloakroom, and lockers (requiring a €1 or €2 coin to operate)
A shop just off the hall of grotesques has the traditional stock of books, souvenirs and similar
For the best photos of the lower palace, go out into the gardens behind it and walk up the slope towards the upper palace
How to get to Lower Belvedere
See the directions article for Belvedere for detailed tips on how to reach the palace.
Address: Rennweg 6, 1030 Vienna