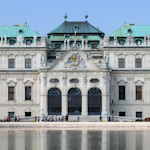 Most people think of Klimt's The Kiss when they think of the Belvedere. But there's much more to discover in the palace galleries, notably the series of busts by Franz Xaver Messerschmidt from his Character Heads series.
The Messerschmidt busts
Franz Xaver Messerschmidt was an 18th century sculptor who studied and worked in Vienna in the 1750s, 60s and 70s. Although he numbered the Imperial family among his clients, he left town precipitously after not receiving a promised professorship.
(One reason for this rejection was apparently his moments of confusion, which I would have thought practically a requirement for a proper professor.)
(Character head by Franz Xaver Messerschmidt. Photo courtesy of and © Belvedere, Wien. Reproduced with permission under the terms of Creative Commons License CC BY-SA 4.0.)
Messerschmidt's works included fairly conventional sculptures:a bust of the physician, Franz Anton Mesmer, for example (also in the Belvedere collections). Or a large tin statue of Maria Theresa as Queen of Hungary that sits in the entrance to Upper Belvedere palace.
And then there are the fascinating character busts. The kind you'd not expect from the late 1700s…not representations of gentle, placid folk, but the sort of faces you'd half expect to see in the props room of a Hitchcock movie.
These heads have their faces in contorted expressions, screwed up in…what? Expectation of a blow? Denial of bad news? Shocked surprise?
Nobody quite knows exactly what Messerschmidt attempted to portray, though one theory is the subjects were victims of dystonia (a neurological condition causing involuntary contractions and spasms).
One or two busts look frighteningly unnatural, the kind of man-like creature you might find in a post-apocalyptic wasteland, skittering away behind fallen blocks of masonry as you approach.
The Belvedere owns sixteen of Messerschmidt's character busts. At the time of writing, twelve of them have their own room at the end of one wing of the first floor of Upper Belvedere (within the Baroque, Neoclassicism and Romanticism/Biedermeier galleries).
The busts recently starred in a temporary exhibition in the Orangerie at Lower Belvedere. The Talking Heads exhibition ran until August 2019 and used Messerschmidt's baroque creations as a context for modern works that examine the head as an art motif. The featured artists included such luminaries as Arnulf Rainer and Maria Lassnig.