Sandwiched halfway between a 12th-century monastery and a 14th-century church in Vienna's historic centre is an institution with a rather more modern flavour to it: the Bank Austria Kunstforum Wien. Think Magritte rather than monks.
Venue for international art exhibitions

…eras range from the late-19th century to today

Exhibitions have featured numerous renowned artists, such as Man Ray, Kandinsky, Kahlo, Chagall, Warhol…
Expect display information in both German and English
Current/coming main exhibition:

Robert Motherwell (Oct 12, 2023 – Jan 14, 2024))

See also:
International art venue
(The building on the Freyung square)
The Bank Austria Kunstforum Wien fits snugly into the historical surrounds at the heart of old Vienna. Although the building is "only" just over a hundred years' old, documents suggest the first house on the site went up no later than the early 15th century.
It seems a little trite to call the place an "exhibition space" but that's what it is, with a clear focus on a creative period that begins with the diverse genres of late 19th-century art and continues all the way through to the present day.
The location has no permanent exhibition, but instead hosts a series of staggered temporary exhibitions (one or two at a time), commonly presenting works from prestigious private collections and museums.
High-quality exhibitions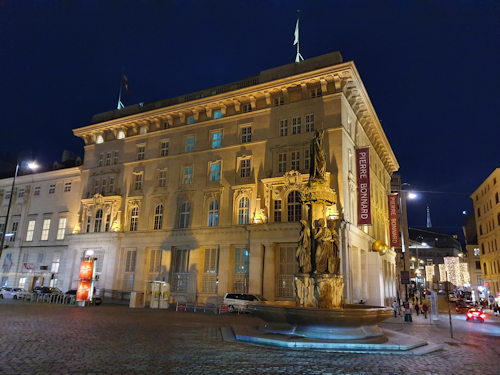 (All lit up at night with the Austriabrunnen fountain in the foreground)
So, for example, one Picasso exhibition featured paintings from the personal collection of Bernhard Picasso.
And a Chagall exhibition displayed works loaned by such institutions as Moscow's Tretyakov Gallery, St. Petersburg's State Russian Museum, New York's Guggenheim and MOMA museums, Paris's Centre Pompidou, and London's Tate Gallery.
A brief review of the many past events throws up such resonant names as Monet, Manet, Man Ray, Magritte and Miró, Klimt, Kahlo, Kokoshka and Kandinsky, Degas and Dalí, Warhol, Lichtenstein, Bacon, Richter, Hockney, Sherman, Newton…the list goes on.
So, as you can tell, you have a good chance of finding something rather special inside.
Exhibition schedule
(Kiki Kogelnik, Self Portrait, 1964 Private Collection; press photo courtesy of Kiki Kogelnik Foundation © Kiki Kogelnik Foundation. The Kogelnik solo exhibition took centrestage in the first half of 2023)
The ground floor provides space for the main exhibition, which includes some marvelous tall-ceilinged rooms so you don't feel cramped. But the Kunstforum also has a small exhibition space in the basement (the tresor – a former bank vault), for newer local and international artists to showcase their talents.
At the time of writing, the schedule for the main exhibition is:
October 12th, 2023 to January 14th, 2024: Robert Motherwell
Past headline exhibitions have recently included the likes of Kiki Kogelnik, Helmut Newton, David Hockney, Rebecca Horn, Daniel Spoerri, Gerhard Richter, and Cindy Sherman.
Incidentally, the art inside shares the building with Austria's constitutional court. There's surely a pun to be made here about judging things, but, well, never mind.
Oh, and those two old buildings mentioned in the introduction?
One is the Schottenstift, a Benedictine monastery on the other side of the square. The other is the Kirche am Hof, a church a short walk away and now home to the Croatian Catholic Mission to Vienna.
Tickets & visitor tips
An adult ticket to the main exhibition cost €12 at the time of writing, though a Vienna Pass (review) gets you free one-time entry.
A few tidbits of info:
The Kunstforum only opens, of course, when it has a main exhibition on, though the shop (see below) may still be open to visitors
The smaller exhibitions in the tresor require no ticket
You can leave your coats and jackets in a staffed cloakroom
When I visited, all display information in the main exhibition was bilingual: German and English
A large(ish) shop sells books (mostly in German, of course), greeting cards (ditto), postcards, and various artistic paraphernalia. As with the tresor, you don't need a ticket to visit the shop
Other museums in Vienna who also feature international exhibitions with major names in modern and contemporary art include the Albertina, Albertina Modern and Belvedere institutions. For a wider overview of contemporary art exhibitions in the city's museums, see here
How to get to the Kunstforum
It's hard to find a more central art museum than this one. The Freyung square is just off the historical centre of medieval Vienna and famous for its Christmas and Easter markets.
Walk on toward the centre from the Kunstforum and you immediately reach Am Hof square, which is so old they keep finding Roman ruins beneath it.
Subway: either take the U3 line to Herrengasse station or the U2 line to Schottentor station
Bus/tram: Schottentor has more trams than a transport museum. Lines 1, D, 71, 37, 38, 40, 41, 42, 43 and 44 all stop here. The 1A bus also starts there and takes you one stop to Teinfaltstraße close to the museum. Or take the 1A or 2A to the Herrengasse stop (just outside the wonderful Café Central)
Address: Freyung 8, 1010 Vienna | Website