Egon Schiele studied in Vienna, produced some of his best works here, and died here in 1918.
So the artist's name remains linked with the city, even if he wasn't always fond of it and was actually born in Tulln (a small town about 35 minutes by car from Austria's capital).
This overview reveals where to see Schiele's paintings in Vienna and where to find his former studios, grave, and other important life landmarks. All the key locations appear on a map at the end of the post.
Schiele: his works
Let us begin with…
The Leopold Museum
(Leopold Museum with the MQ Libelle on its roof; © Leopold Museum, Vienna; Photo: Ouriel Morgensztern)
This should be top of your list for exploring Schiele's artistic output; the Leopold Museum owns the world's most important Schiele collection, covering over 40 paintings and dozens of works on paper.
Many of these paintings, including Seated Male Nude and a Portrait of Wally Neuzil, appear in the Schiele galleries of the museum within the wider Vienna 1900 permanent exhibition.
The Leopold Museum's special exhibitions may include some Schiele connection, too, so be sure to check the current schedule.
Belvedere
(Death and the Maiden. Photo courtesy of and © Belvedere, Wien. Reproduced with permission under the terms of Creative Commons License CC BY-SA 4.0.)
Most people associate the Belvedere art collections with Klimt, but the same permanent exhibition that features the famous Kiss also includes several works by Schiele.
You might spot such works as Death and the Maiden or The Embrace (Belvedere sometimes changes the displays around to keep things fresh).
Ad:

Wien Museum
The Wien Museum also owns works by Schiele and rearranged their permanent exhibition on Karlsplatz in 2016 to cover more of Vienna around 1900.
When I visited in early 2018, for example, they had six paintings on display, including portraits of Arthur and Ida Roessler, and The Artist's Room in Neulengbach.
Note that the Wien Museum has closed for major construction work until late 2023. Once they reopen, I'll check what's on display.
Albertina Art Museum
(The museum has an enormous collection of prints, paintings, and more)
The Albertina also owns a large Schiele collection (original works, photos, diaries, etc.), but most items are not on display at any one time.
You may find one or two paintings in the permanent exhibition, otherwise check their current special exhibitions in case Schiele features strongly in one of those.
Schiele: life and landmarks
Should you wish to follow in Schiele's physical footsteps, then try these addresses:
Education
(Schiele would have ascended these steps to attend classes)
As you can imagine, Schiele took well to a classical training in art. Or perhaps not.
Anyway, he attended the Vienna Academy of Fine Arts (address: Schillerplatz 3, 1010 Vienna) from 1906 before breaking off his studies in 1909.
The Akademie der Bildenden Künste Wien is still a major university today and houses its own renowned paintings and art collection.
(This is the institution that famously rejected Hitler's application.)
Studios and residences
Schiele is commonly associated with Hietzing, Vienna's upmarket 13th district.
When I visited the small Hietzing District Museum (Am Platz 2), it had an original bronze bust of the artist (designed by Schiele himself), and one of his easels. Warning: the museum has limited opening hours.
Hietzinger Hauptstraße 101
(Hietzinger Hauptstraße 101 – Schiele's studio was up in the roof)
From 1912 to his death, Schiele's studio was at Hietzinger Hauptstraße 101, directly opposite his parents-in-law's house (where he died). A plaque next to the front gate marks the location.
Other studios and residences I visited bore no sign of their significance. I've listed some below.
Other locations
As far as I can tell, the original buildings are still standing (except for Pfeilgasse 3, which is definitely a newer building). All generally look rather impressive, though my wife assures me they may not have been quite so sumptuous-looking or well-appointed inside.
(Kurzbauergasse 6)
From 1908-1909, Schiele had a home and studio at Kurzbauergasse 6, later moving to Alserbachstraße 39
He apparently lived at Grünbergstraße 31 (opposite the great park of Schönbrunn Palace) across 1910-1911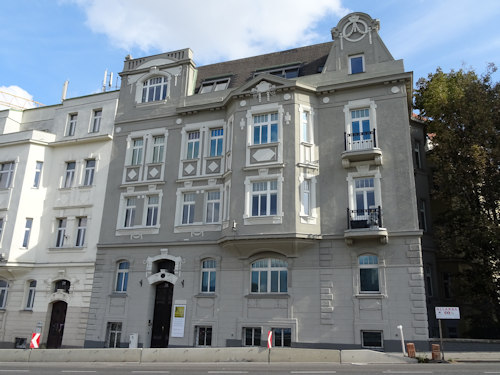 (Grünbergstraße 31)
In 1912 he occupied studios at Pfeilgasse 3 and Höfergasse 18
In 1918, he also had a garden studio in Hietzing at Wattmanngasse 6
If you do potter around Hietzing, pop over to the Klimt Villa, location of Klimt's last studio and now a museum.
Place of death
(A plaque on the wall marks the house where Schiele died)
Schiele died on October 31st, 1918 at Hietzinger Hauptstraße 114, the home of his parents-in-law. His wife had died a couple of days earlier from the same Spanish 'flu.
A plaque outside commemorates the event and notes that he also created many works in a nearby studio from 1912 to 1918 (see Hietzinger Hauptstraße 101 above).
Schiele's grave
(The lower part of Schiele's gravestone)
They buried Schiele on November 3rd, and the grave is in the Ober St. Veit cemetery at Gemeindeberggasse 26.
On the noticeboard to the left of the main entrance you'll find a cemetery map: look for Group B, Row 10, Nr.15/16.
Basically go right at the entrance until you hit the storage huts. Then go up the next row after this and look for Schiele's grave on the right. He's buried with his wife, Edith.
Schiele location map