The Albertina's marvellous permanent art exhibition draws mostly on the Batliner collection, which is on permanent loan to the museum.
Covers various painting styles from French impressionism through to surrealism and the modern day
Includes some of the greatest names in art history

Monet, Picasso, Magritte, Matisse, Chagall…

Actual contents may change as the Albertina expands its collection and changes up the displays
Comprehensive display labels all in English, too
See also:
Quick Albertina tickets
(Booking service provided by Tiqets.com*, who I am an affiliate of)
"From Monet to Picasso"
The Albertina puts on some pretty special temporary exhibitions, but they're hard pressed to beat the myriad of masterpieces in the permanent display.
Even those (like me, once upon a time) who think Alberto Giacometti was a famous Italian soccer player can become quite awestruck by the names of the artists on show.
(In my defence, there was a well-known Australian soccer player called John Giacometti.)
Anyway…Monet, Sisley, Cézanne, Degas, Renoir, Matisse, Kandinsky, Munch, Picasso, Miró, Rodin, Gaugain, Chagall, Modigliani, Magritte…the list goes on.
The uncluttered, well-lit Albertina galleries make viewing these works of art (mainly paintings, but also sculptures and other items) a delightful and informative experience.
Fairly detailed labels (in German and English) accompany many of the paintings and describe the artistic characteristics and context of the work.
Ad:

The information often includes biographical details of the artist, too. So the exhibition has much to offer those of us still learning about genres and individuals in the art world.
This level of detail also means you don't need to hire an audioguide to enjoy the works and understand their interpretation and relevance. However, the audio content does let you dig deeper into the history and meaning of selected works.
It's almost unfair to pick out single exhibits from what is essentially a collection of art jewels. By doing so, I'd likely only expose my ignorance anyway.
It's certainly quite humbling to find yourself in a room full of works by Picasso. And time spent looking at Monet's The Water Lily Pond has to be time well spent, no?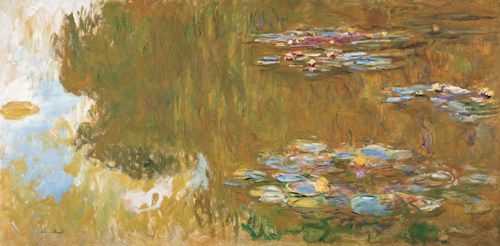 (Claude Monet; Der Seerosenteich, 1917-1919; Öl auf Leinwand © Albertina, Wien. Sammlung Batliner)
The quality of this exhibition offers a sense of certainty when considering whether to visit the Albertina or not.
Should the current temporary exhibitions fail to appeal to your tastes, you still get your money's worth from a ticket through what we can call the "Picasso guarantee". Not to mention the bonus of a tour of the staterooms.
P.S. On my last visit, the Albertina had added Gustav Klimt's 1899 Water Nymphs (Silverfish) to the display. So consider this a potential stop on any Klimt tour of Vienna. In the work, Klimt gives his alternative almost-demonic interpretation of mermaid iconography.