Before you brave the roads of Vienna, it's worth mentioning that the public transport system here is cheap, fast, efficient, reliable, and regular. Once you're in the city, it often makes sense to switch to trams, buses, and subways.
Tips for drivers
As a driver in a strange and foreign location, you'll obviously want to familiarise yourself with local safety regulations, driving rules etc..
The Austrian government provides a lot of information in English, and below are selected tips – with explanatory photos – from an experienced local driver.
And, in case you're wondering, people drive on the right in Austria.
Parking
Driving is one thing, parking quite another. You're competing with locals who show no mercy and who've trained all their lives to sniff out spaces.
Get tips on where to park and filling out the prepaid parking voucher you need in many parts of Vienna for street parking.
Almost all the city is now covered by a single street parking zone.
Speed limits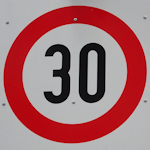 Learn about local speed limits (which aren't always displayed on signs). Most roads within Vienna have 30kmh or 50kmh limits.
Motorways always have speed limits. This fact may surprise people coming over the border from German autobahns, though the traffic police are no doubt more than happy to explain the restrictions.
The motorway toll
Discover how the motorway toll system works.
Most city roads are free to use, naturally, but Austria has a nationwide motorway/freeway toll system requiring a pre-paid toll sticker.
Vienna is a big city approaching 2 million inhabitants, so has freeways within the city limits.
A little extra driving advice
Find out what signs about an Einbahn and Rettungsgasse mean, as these often confuse foreign drivers.
You need to understand the Rettungsgasse, in particular, if driving on Austria's dual carriageways or motorways. It concerns the formation of a corridor between lanes for emergency vehicles if traffic is at (or coming to) a standstill.
Finally, get ten bonus tips to help make driving around Vienna a little pleasanter (and safer for everyone).