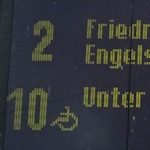 Is Vienna wheelchair-friendly?
Yep. Very much so.
Accessibility overview
For over 20 years, the city has pursued a "barrier-free" development plan. It's not just a policy, but a practice, with accessibility embedded in building and other regulations.
Back in 2020, for example, Lonely Planet named Vienna as one of the world's most accessible destinations, noting that the city:
…is both flat and compact, with most central shops and cafes fully accessible
(Lifts are a common feature allowing access to subway stations)
In general, pavements are indeed flat, smooth and well-cared for. Vienna does have many historical parts, so you'll still find some cobblestones, for example, but not often enough to prevent you getting around easily.
Transport hubs are served by ramps and lifts, as are most points of interest. Most (but not quite all) trains, trams, and buses have low floors and raised platforms for step-free boarding. And wheelchair users can access various mobility services and resources.
Is everywhere accessible? Not entirely.
As a city that's grown organically over centuries, with numerous historic buildings, some limits to accessibility remain that can't be fixed with the best will in the world. But a wheelchair should prove no obstacle to travelling around Vienna and enjoying all the sights.
Travel
(Raised platforms with ramps make boarding and leaving trams easier with a wheelchair)
Accessibility is a key feature of the (public) transport system. For example:
Access to all subway stations is possible via ramps or lifts. Some lifts may be temporarily closed for maintenance, of course, though this is rare in my experience. All major transport hubs, like the airport, are built with accessibility in mind
Most municipal trams and all municipal buses are now low-level, often with raised street platforms at stops and deployable ramps, so you can get on board easily
Most municipal trams and buses (and the newer city trains) have dedicated spaces for wheelchairs. A few older vehicles still ply their trade around Vienna, where space is a little more limited
Tip: At tram stops, look for the wheelchair symbol on the electronic displays telling you when the next "wheelchair-friendly" tram is due.
Around half the ticket machines are designed to be easily operated by wheelchair users and smaller people
Kerbs are also commonly ramped with frequent pedestrian crossings
Disabled parking spaces are common in car parks and around many tourist sites
Tourist sites
All the major tourist sites I can think of have lifts or ramps, though there may be exceptions. Concessions for wheelchair users and/or carers (or an accompanying person) are also commonplace, including free entry to many museums and other attractions.
As indicated earlier, a small number of locations (or parts of locations) are in buildings where putting in a lift may not be possible, mostly due to preservation orders.
I was in one of the flats Beethoven lived in (now a small museum) and you had to climb four narrow flights of stairs to get there. The official websites for individual locations should include accessibility information, so you can check in advance.
Useful accessibility resources
(Disabled parking spaces on a shopping street)
The official tourism site for Vienna has extensive information on accessibility here. This includes downloadable guides covering such things as:
Wheelchair rentals
Accessibility at Vienna airport and train stations
Parking exemptions
Trains and buses
Mobility services and specialist tours
Public toilets
Accessibility at selected hotels, cafes and restaurants, plus major tourist sites, theatres, cinemas, and opera houses
A few wheelchair users have reported their experiences in Vienna, so you can get a feel for the reality of accessibility and gain some practical tips for your trip to the city. For example:
Spin the Globe has tips on getting around and suggestions for accessible activities in Vienna, which the author calls "one of the most wheelchair friendly cities I've ever visited"