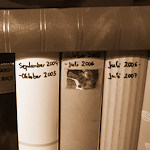 Given the post title, you might expect philosophical tomes and lecture recordings to dominate this exhibition. But the Leopold Museum actually focuses on Wittgenstein's deep interest in photography.
Photography as analytical practice explores various facets of Wittgenstein's interest and its relationship to his life and work
Includes dozens of juxtaposed contemporary works from over 45 artists
Runs Nov 12, 2021 – Mar 6, 2022
Leopold Museum entrance ticket includes all exhibitions inside
See also:
Photography as analytical practice
(Exhibition views, Ludwig Wittgenstein © Leopold Museum, Vienna, Photo: Lisa Rastl)
Late 2021 and early 2022 has Vienna showcasing various individuals who have achieved global fame for their work. Like David Hockney (from February 10th, 2022 at the Bank Austria Kunstforum Wien) or Edvard Munch (from February 18th, 2022 at the Albertina).
Another addition to that pantheon of greats is Vienna-born Ludwig Wittgenstein (1889-1951), widely regarded as one of the most influential philosophers of modern times.
The Wittgenstein exhibition at the Leopold Museum offers insights into an underexplored (and perhaps unexpected) aspect of Wittgenstein's life: his interest in photography.
Photography as analytical practice looks at that interest from different perspectives. We discover Wittgenstein as a photographer and as a collector and arranger of photos, for example. And we learn about his use and understanding of the medium. Inevitably, the exhibition also draws connections to his life and work.
Given the self-portraits among the photos, we might follow the advice of Colin McGinn, who wrote in the London Review of Books back in 1990:
Perhaps the best place to begin trying to understand Wittgenstein's character is with the photographs that exist of his face.
The topic fits into the wider context of the Leopold Museum's art and design collections, since the intellectual blossoming associated with Viennese Modernism also reached into music, science, philosophy, and other areas of human endeavour.
Another dimension to the exhibition comes through the presence of contemporary art that creates a dialogue with the Wittgenstein-oriented objects and themes. The juxtaposition invites the viewer to find interconnections that bridge the temporal gap between the philosopher and more modern works.
The numerous artists so featured include names that have themselves achieved significant global recognition, such as Cindy Sherman, Sherry Levine, Gerhard Richter, or Andy Warhol.
Over 200 photos and other items from Wittgenstein or those around him feature, as well as dozens of works by contemporary artists.
Ad:

Tickets and dates
Enjoy the photographic journey with Wittgenstein from November 12th, 2021 to March 6th, 2022. A ticket* for the museum gets you into all its exhibitions.
If photos tempt you more than the historical or broader art perspective, consider also visiting some of the other photography exhibitions currently in Vienna. For example, the Susan Meiselas retrospective at the Kunst Haus Wien runs until February 13th.
How to see the photos and art
First, find your way to the MuseumsQuartier. The Leopold Museum sits at one end of the main courtyard. Inside, the Wittgenstein exhibition occupies floor -1. Pop up to the higher levels for extensive permanent exhibitions on Vienna around 1900, with numerous works by, for example, Klimt and Schiele.
Address: Museumsplatz 1, 1070 Vienna