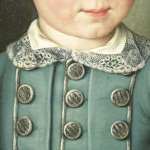 The on-site Children's Museum is a great place to reward young kids after they tramped around Schönbrunn Palace all morning without (hopefully) complaining.
Hands-on museum for the little ones
Dress up as a child of the court (or an adult)
Lots of things to do, touch, smell…
The Bergl rooms offer a visual treat for grownups, too
Needs its own ticket
See also:
Inside the Museum
(Dress up in style at the Children's Museum in Schönbrunn. Photo © Schloß Schönbrunn Kultur- und Betriebsges.m.b.H., Reza Sarkari)
If you've ever wondered what life was like as a little Archduke or Archduchess (and who hasn't?), the Children's Museum in Schönbrunn Palace has the answer.
Around a dozen rooms and chambers explain and demonstrate various aspects of the day-to-day activities of a court youngster.
They do this while avoiding the boring "old schoolbook in a glass cabinet" approach. Instead, expect games, puzzles, challenges, and hands-on experiences that include everything from indoor slides to magnetic leeches.
Just a couple of examples:
Before or after you tour the museum, you can dress the kids up in period costume
This means full-blown wigs, hats, gowns, fans, suits and other court paraphernalia. Our kids loved this bit.
Pose for photos in a sedan chair, for example, or on a sumptuous throne-like armchair. And suitable clothing means adults can join in, too.
Play with the same toys and games used at court in centuries past
Smell all the different perfumes used by the archduchesses at a dressing table. And in the dining room, smell a selection of kitchen aromas (which are not quite as pleasant)
Use wooden blocks to rebuild the palace
Ad:

While kids enjoy messing about with the displays, it's not uninteresting for adults, too.
The stunningly-impressive Bergl Rooms, for example, have walls painted to look like a river jungle landscape.
Various items from the past (such as dressing table equipment or a dinner service) complement the kid-friendly elements, and it's quite amusing to see how incredibly old the imperial children look in the paintings.
The museum also reveals the kind of trivia that makes history intriguing.
For example, the kids only brushed their teeth twice a week. The inevitable consequences explain why you never see Habsburgs smiling in their portraits. Or perhaps they were just worried about sociopolitical developments in the Kingdom of Galicia and Lodomeria.
On that subject…children in historical royal paintings always seem to look like miniature clones of their parents:
(Archduke Ferdinand as a child by Friedrich Heinrich Füger, 1804 © Belvedere, Wien. Reproduced with permission under the terms of Creative Commons License CC BY-SA 4.0.)
I'm assuming there's a reason for this, possibly to do with establishing the legitimacy of one's offspring? You don't want those palaces going to the wrong people after you pass on.
Tickets & visitor tips
At the time of writing, the Children's Museum at Schönbrunn cost €8.50 for a standard adult or kid ticket.
The information, puzzles and challenges are all given in English, too
The museum often has bonus treats to coincide with particular seasons or festivities, such as an arts and crafts workshop during Advent
Last time I checked, they had a timeslot system in operation, so consider an advanced online booking to avoid the risk of waiting times.
Other notably kid-friendly locations in the Schönbrunn area include the wonderful zoo (of course) but also the mazes (closed during the colder months).
And if you wander up the road leading away from the main entrance to the Schönbrunn complex, you soon come to the Technical Museum. This has, among its many delights, huge numbers of buttons to press and levers to pull.
How to get to the Children's Museum
Go to the main entrance to the Schönbrunn Palace complex using these directions.
Once there, the Children's Museum is on the right-hand end of the main palace building as you face it. It's impossible to miss.
Address: Schloss Schönbrunn, 1130 Vienna | Website