Your device is only as good as the electricity inside it. Or something like that. So, when it comes to charging phones or plugging in laptops, do you need an adapter for Austria and Vienna?
Austria uses 2-pin Schuko sockets and plugs (see below)
UK and US visitors, for example, need an adapter for electrical items
The big electronics stores in Vienna (and a newsagent in airport arrivals) should sell appropriate adapters
See also:
---
Make the most of your stay with my…
---
Plugs and sockets in Vienna
Austria uses Schuko / Type F sockets, as pictured below.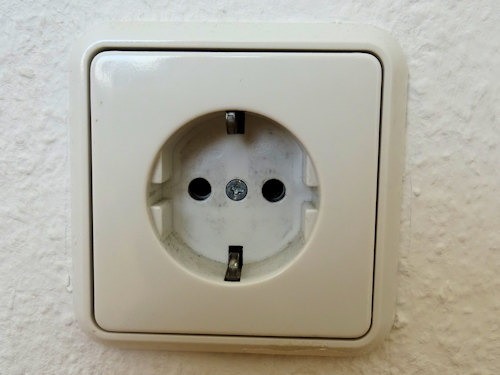 (A typical Austrian socket)
This is the same 2-pin system as in much of continental Europe, including Germany, Greece, Portugal, Sweden, and Spain.
These sockets take the equivalent 2-pin Schuko or Type F plug, but are also compatible with the Europlug and the CEE 7/7 plug.
(A typical Austrian plug)
Do you need a travel adaptor?
All of the above means visitors from the UK, for example, need an adapter to fit a 3-pin British plug to an Austrian socket.
Post-Brexit, visitors from the UK also need a special import certificate from the Foreign Office granting permission to store and use EU electricity in a British-owned device. (Just kidding.)
Visitors from the USA, for example, typically need a combined adapter and converter, since the standard voltage in Austria is higher than in the US (at 230 V): the standard frequency of 50 Hz is different, too.
Where can you get adapters in Vienna?
If you haven't brought the appropriate adapter with you, then your accommodation may, of course, be able to lend you one.
Or try the newsagent in the arrivals hall at Vienna airport. That store sells books (also in English), international papers, and…travel adapters (at least it did when I last flew).
Look for the Relay signs at arrivals, though the store location is actually almost immediately opposite where you emerge when you exit from the baggage collection & customs area.
In town, the large electronics department stores stock travel plugs, adapters and similar accessories. The main chain is MediaMarkt, which has several outlets (including one at Wien Mitte station, which is where the express train from the airport arrives).