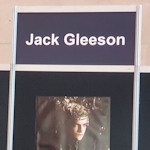 After a two-year break, Vienna Comic Con returned in full in 2022: a tale of (happy) tears as I encountered witches, kings, Vikings…and baby Yoda.
Stars and selfies
(Keep your distance)
Visiting Vienna Comic Con always feels strangely life affirming.
A bustling coming together of like-minded folk in an atmosphere of inclusiveness.
A chance to revel in your fandom and abandon yourself to your inner (or outer) geek.
A place where you bump into someone and turn to apologise, finding yourself faced by Thor or Commander Shephard (both of whom will happily pose for a photo).
You may find understandable grumbles at a queue or crowded alley between stalls in an exhibitor area. But that's about as far as the Dark Side goes at such a convention.
I witnessed, for example, holders of expensive VIP tickets giving way to day ticket holders in autograph queues. And no sign of the toxic fandom you sometimes find online. Just a huge crowd of people having respectful fun.
Like I say, life affirming.
Comic Con offers numerous entertainments – from star guests and wrestling bouts to tabletop games and Lego Hogwarts – but my joy comes from the people.
The dedication and skill shown by legions of cosplayers inspires and impresses. One day I may join them with a long-held wish to cosplay Aragorn, even if my sister told me, "No, just no. Don't ruin Aragorn for me." (Gollum would be OK, apparently.)
Talking of legions, the Austrian branch of the 501st Legion were out in force with their Star Wars reenactments and photo opportunities, all raising money for a local children's hospital.
I got a snap with the Mandalorian and baby Yoda (sorry…Grogu) and took my obligatory selfie with another masked colleague:
(Just two folk debating the merits of the new Jane Austen adaptation on Netflix)
A wander around artist alley revealed dozens of independent artists demonstrating the power of their imagination, paintbrush, and (digital) pen. A maelstrom of ink, colour and creativity in drawings, paintings, crafts and more.
But I found myself, as usual, gravitating to the stars and their interviews on the main stage. While we all enjoy behind-the-scenes anecdotes and such like, I value the opportunity to get a better understanding of the person behind the actor and how they approach their work.
Jack Gleeson, notable for playing one of the most dislikeable characters in TV history, revealed himself to be an engaging, humble man who still seems surprised that people want to hear what he has to say.
The great Kevin McNally felt like an old-school raconteur with a resumé of stories and anecdotes he tells as if revealing them for the first time. And he also does a mean Johnny Depp impersonation.
But what of those tears mentioned in the introduction?
Well, Clive Standen, for example, had the entire audience reaching for tissues with his candour, kindness and generosity of spirit. A build like a warrior of Sparta combined with grace, sensitivity, and curiosity about the world around him.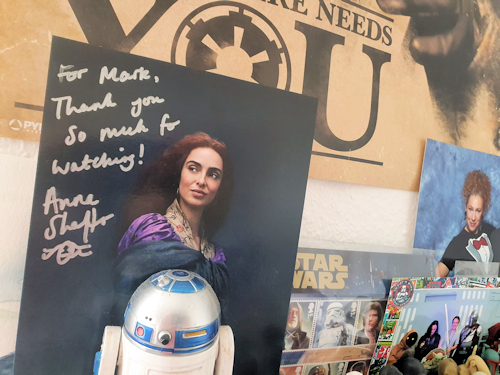 (Anna Shaffer joins the shelf of honour at home)
Anna Shaffer almost brought me to tears as she signed a photo. Which may have had something to do with my massive crush on her character in The Witcher, but perhaps stemmed from her charm, modesty, enthusiasm, and gratitude at the opportunity to act and the positive response from fans. An utter delight to meet.
(Also notable for saying, "I've never met a bag of crisps I didn't like." An actor after my own heart.)
And who cannot fail to be moved by a toddler dressed as Captain America standing utterly awestruck before an adult Captain America? Unfiltered joy that seems so rare in our cynical world (which has, of late, provided much to be cynical about).
See you there next year.