Baroque architecture, palatial surrounds…and giant lemons. Welcome to the Wiener Zitrustage, an annual event for those who appreciate the art of growing citrus trees (or the gourmet results of that process).
Small exhibition and fair dedicated to citrus plants
Mostly for growers and hobbyists but…

…gives you a citrus-flavoured look inside Schönbrunn palace orangery
…nice opportunity to buy gourmet delicacies
…rare varieties can be intriguing

2024 dates: May 17-20
See also:
Oranges, Lemons, & More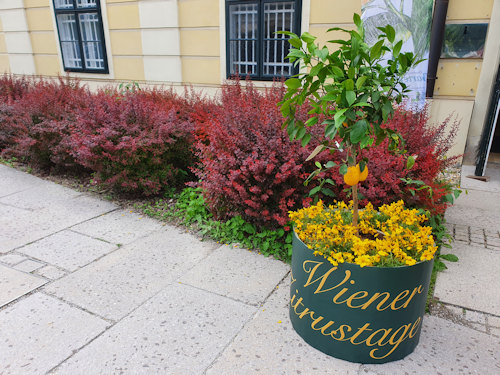 (Not your typical roadside tree in Vienna)
Austria is rarely noted for its sundrenched orchards full of ripening grapefruit, so a celebration of citrus perhaps seems an unlikely concept for Vienna.
Ah, but we have our winter gardens. And the city also has the second-largest historical orangery in Europe…one that once hosted Mozart premieres and Imperial parties.
So not an unlikely concept at all.
The Wiener Zitrustage (Vienna Citrus Days) takes over a large part of Schönbrunn palace's lengthy Baroque orangery to delight all those with an interest in the history and cultivation of oranges, lemons, and similar.
German dominates, so the extensive programme of expert talks and tours may not suit the casual visitor from afar. But what else might you see?
The highlight on my visit was, perhaps, the collection of historical varieties featuring such charming examples as the ribbed bitter orange that is Citrus aurantium "Bizzarria" (long thought extinct until rediscovered in a Florence villa).
As for Citrus limonimedica, well, lovers of gin and tonic are going to need a (much) bigger glass given the size of the lemons.
Alongside the small displays, a handful of stalls offered specialist horticultural books, supplies, equipment, and plants (citrus and otherwise, all of which combined to leave a nice scent hanging in the air).
Other stalls had a broader appeal, selling olive oils, jams, vinegars, spreads, honey products, gourmet chocolates, pestos and pasta, for example. Perhaps a place for small and unusual (food) gifts to take home?
The Zitrustage are a joint effort by the Österreichische Bundesgärten (who look after, for example, the Belvedere and Schönbrunn gardens), the HBLFA für Gartenbau (horticultural educational institute) & the Österreichische Gartenbau-Gesellschaft (the Austrian horticultural society).
A similar team gives us the Herbsttage over at the Burggarten park in the central Hofburg complex.
Tickets, dates & tips
The 2024 event is scheduled for May 17th to 20th with opening times of 10am to 6pm and entry costing €8 on the door for an adult.
If you do go, wear sensible shoes for the historical cobblestone surface of the orangery.
Apart from Schönbrunn, Vienna has another historical orangery over at Belvedere palace. While Schönbrunn's version still serves its original purpose (with concerts thrown in for good measure), the Belvedere version has become a venue for top notch art exhibitions.
How to get to the Zitrustage
Follow travel tips and directions for Schönbrunn. The entrance is on the eastern end of the complex on the Schönbrunner Schloßstraße road that marks the northern boundary of Schönbrunn palace and park.
Address: Schönbrunner Schloßstraße 47, 1130 Vienna | Website