The zoology galleries at the Natural History Museum (NHM) have an air of Victorian enthusiasm about them with their rows of wood and glass cabinets filled with specimens: as much a historical display as a natural historical one.
A walk through the world of animals, from giant beetles to giant pandas
Includes award-winning taxidermy displays
Antique display cabinets have their own charm
Quick to get through as less additional info than on the ground floor
Items may vary dependent on exhibitions and improvements
See also:
More than a stairs
(More than just a set of steps)
You reach the second floor of the museum via a lift or up a wide staircase. Whereby the word "staircase" hardly does justice to its magnificence.
Halfway up is the painting of Emperor Franz I. Stephan von Lothringen (1708-1765) surrounded by his rap band scientific advisers.
The husband of Empress Maria Theresa had the time, money and inclination to push back the frontiers of science; his acquisitions and commissioned projects form the basis of the museum's historical collections.
Beetles galore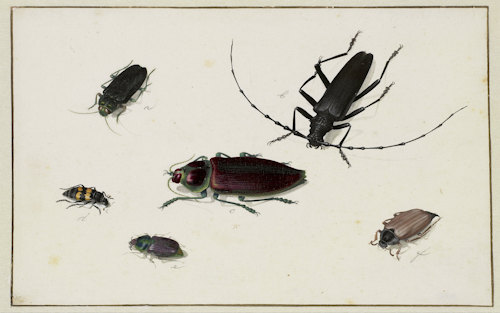 (Image courtesy of the Rijksmuseum)
The floor starts with Gallery 21 (go left then right at the top of the stairs) and the world revealed only through microscopes.
Galleries 22-24 then cover the simpler organisms, everything from corals to Coleoptera (beetles), with rows of specimens and wall-mounted educational displays.
Discover, for example, the joys of parasitic worms; you might not want to look too closely at the preserved specimens. Not if you want a decent night's sleep.
Or learn about sea silk made from mollusc secretions, said to be even finer than traditional silk.
The poor molluscs had a hard time of it in the past: for example, thousands of sea snails valiantly gave their lives to supply enough purple dye to decorate just one Roman garment.
Be sure to look at the giant clam shell in Gallery 23. Their pearls can exceed 6kg.
Gallery 24 reflects the quote from biologist JBS Haldane, who figured that any creator must have…
…an inordinate fondness for beetles.
My highlights:
Vitrine 86: the Goliath and Hercules beetles (the names offer a clue to what you can expect)
Vitrine 88: a whole slew of ladybird beetles showing the unexpectedly numerous spot combinations and designs
Vitrine 90: more big beetles, including the Titan beetle and the over-sized mandibles on Macrodontia cervicornis
Vitrine 91 (the lower half): Batocera and Rosenbergia beetles that look like something lifted from the Alien films
Giant over-sized insect models add another little shudder to those of us not totally comfortable with bugs and beetles.
Achtung, sharks!
(Coelacanth. Press photo © NHM Wien)
The rest of this floor covers vertebrates: fish, reptiles, birds, mammals and so on.
Most rooms feature an array of preserved specimens, but without the same degree of infotainment (or English) you see on the lower floor. Though each time I visit, the displays grow increasingly modern and bilingual.
You have two options, I think.
You can pass fairly quickly through each room, pausing for a few highlights, and end with coffee and cake in the sumptuous cafe.
Or you can take a more leisurely pace and absorb:
The historical context…old display cases and specimens of species that are no longer with us, reminding us of a time when the natural world seemed both robust and plentiful (and implicitly warning us that it is neither)
The rare art of taxidermy: watch out for a handful of scenes and poses that have won international prizes for their quality
Anyway, Galleries 25 and 26 introduce sharks and fish, including a very rare West Indian Ocean coelacanth (Latimeria chalumnae), often described as a living fossil since this kind of fish was thought to have become extinct millions of years ago.
Achtung, dragons!
(Gavail. Press photo © NHM Wien)
Reptiles and amphibians dominate Galleries 27 and 28. The highlights for me:
A Komodo dragon: these lizards can reach up to 3m in size and hunt deer
A huge 5.3m gavail or gharial (Gavialis gangeticus): a fish-eating crocodile from India
Giant tortoises from the Galapagos islands
The tortoises illustrate my point about the value of the historical context, since these animals are now extremely rare and heavily protected.
One of the newer additions to this section is the Burmese Python display with its important message about snakeskin products.
Achtung, birds(?)
(Image courtesy of the Rijksmuseum)
Next up are the birds, which grace Galleries 29-32. These range from songbirds to seabirds, prey to predator, the common to the (extremely) rare: around 2,500 are on display. My particular highlights:
A shoebill (Balaeniceps rex) with its (surprise!) massive shoe-shaped bill
A moa skeleton. Now extinct, the biggest species of these ostrich-like New Zealand natives could reach 3.6m in height
A dodo skeleton. Not all the bones come from the same bird, but still…a dodo!
Look out for the prize-winning taxidermy displays here.
I once had the pleasure of a peek behind the scenes of the museum's bird collection and the associated research initiatives: see my impressions here.
Mammals and marsupials
(Image courtesy of the Rijksmuseum)
The rest of the galleries (33-39) cover our furry (and not so furry) friends, like rodents, sea mammals, rhinos, zebras, goats, sheep, antelope, big cats, big bears, monkeys and apes.
These specimens include some TV stars; the display cases feature in the popular period detective series, Vienna Blood. One of the main characters – the English scientist, Amelia Lydgate – works in the museum.
Some rooms have more English than others and some also provide complementary displays. My highlights:
The impressive sea creatures in Room 34. For example, view a fin whale skeleton, a narwhal skull, and a huge elephant seal
The same room features the skeleton of a Steller's sea cow. Being large, slow and edible, the species succumbed to the traditional fate of large, slow and edible creatures: we hunted them to extinction (see the dodo, moa etc.)
A preserved Javan rhino from 1801. Only a handful survive (in Ujung Kulon National Park in Java, Indonesia)
Who doesn't love a panda bear? Schönbrunn Zoo also has pandas for those who like their bears still breathing
And that brings you to the end of the museum's permanent collections.