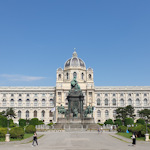 Mention exhibitions in Vienna, and most people think of paintings. But the Naturhistorisches museum does a wonderful job of presenting special exhibitions that often sit at the interface of science, history, culture and art.
I've visited and reviewed the main exhibitions since 2019, and you can read my impressions below.
Selected exhibition reviews
(View of part of the Brazil exhibition; press photo © NHM Wien, Christina Rittmannsperger)
Brazil (2022-2023)
A celebration of 200 years of formal relationships between Austria and Brazil. We discovered the origins of the connection, especially the results of the scientific expedition that accompanied Maria Leopoldina of Austria as she sailed over to become Empress of Brazil by marriage.
The Brazil exhibition also revealed, for example, the diversity of the country's ecosystems and their current status: from coastlines and shrublands to tropical wetlands and savanna.
KinoSaurier (2021-2022)
Science went up against Hollywood in the KinoSaurier exhibition, which took a closer look at the delicate relationship between the demands and imaginations of movie makers and the opinions of those who study dinosaurs professionally.
We also had a chance to trace the evolution of film (and scientific) depictions of these giant lizards. As you might imagine, the models, skeletons and more made excellent selfie opportunities.
Best Before (2020-2021)
This remarkably informative exhibition alerted us all to the issue of food waste. Best Before explored the various ways food is lost along the chain of events that leads from the field to the plate (and bin), but also highlighted the many negative consequences of this waste.
To avoid a blanket of pessimism, the exhibition also presented some anti-waste initiatives, and showed how we might do better as consumers (notably through a proper understanding of what "best before" actual means as a food label).
WILD (2020)
A retrospective of works by renowned and multiple award-winning US wildlife photographer, Michael "Nick" Nichols. This included such shots as The Last Great Picture, which brought Nichols a Wildlife Photographer of the Year award.
Other photos that particularly caught my eye were the composite picture of a giant Sequoia in pre-drone days and the elephant shot that garnered a 1996 World Press Photo award.
Moon (2019-2020)
One of my favourites: the Moon exhibition had a lovely display environment and intriguing exhibits that explored or demonstrated the role of the lunar body in science, art and culture.
Highlights included a giant replica, a piece of the moon you could actually touch, a VR experience, gorgeous oil paintings and old tomes of science fiction.
Meltdown (2019)
An exhibition that combined science, art and climate change messaging. So an event for the times we live in.
Meltdown featured photos and other works of art that portrayed the reality of glaciers, particularly the latter's role as markers of the climate emergency.