Witness history and the phoenix-like return of Vienna and Austria post-WWII, as seen through the lens of US photographer Yoichi Okamoto in the National Library's Image Power Politics exhibition.
Documentation of a time and era
Photos of people, places and a zeitgeist
Also includes some of Okamoto's US work
Runs Nov 23, 2023 – Mar 3, 2024
See also:
Image Power Politics
(Much of Vienna looked like this when the Americans and Yoichi Okamoto arrived; the Collaltopalais photographed by Bruno Reiffenstein in 1945; Wien Museum Inv.-Nr. 93061/28; excerpt reproduced with permission under the terms of the CC0 licence)
Wander around Vienna today and the pristine nature of the city rarely fails to impress. Things were a little different back in the late 1940s. Unimaginably so when looking back from the 2020s.
It's hard to fathom how this city and the wider country pulled itself up from the ashes of a World War. Watch the movie The Third Man: they needed no sets to conjure up a cityscape of rubble and devastation.
Fortunately, talented photographers were on hand to document the transition from war-torn dictatorship to blossoming democracy: a transition marked by reconstruction and rebuilding of walls and roofs, but also of lives, hopes, art, and culture.
One of the foremost such talents was US photographer Yoichi Okamoto (1915-1985), sent to Austria with a specific remit to document post-war life and the reconstruction process.
(Soldiers from the US, France, Soviet Union and UK on patrol in post-war Vienna enjoying a smoke break c.1950; press photo © Österreichische Nationalbibliothek)
During his time in Austria, Okamoto served as personal photographer of the US Commander-in-Chief. He later repeated that role for President Lyndon Johnson, which earned him this description from one of his successors:
…the Godfather of White House photography
Okamoto also headed up the Pictorial Section of the US Information Services Branch in Austria. His subjects varied from Marshall Plan projects to portraits and the social and cultural zeitgeist of the times. And all captured through the filter of his own artistic perspective.
The results from Okamoto's camera provided inspiration for photographers from Austria and beyond, but also created a resource of great historical value. So much so that the Austrian National Library (ÖNB) bought Okamoto's photo estate.
This purchase underpins the Image Power Politics special exhibition, held in the ÖNB's famous Baroque State Hall. The smorgasbord of works on show reveals the humanity, humour and creativity of Okamoto's photos.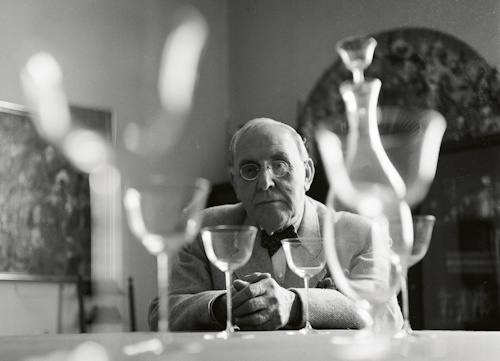 (Portrait of designer and architect Josef Hoffmann; press photo © Österreichische Nationalbibliothek)
Much of the exhibition documents the early days of the post-WWII Austrian democracy and a people seeking a better future and a better identity.
This begins with images of a war-torn city, such as café visitors blithely drinking their coffee while surrounded by rubble, before going on to cover historical events, artist portraits, US-sponsored activities, photos from later trips to Vienna, and similar.
So, for example, we see the arrival of the Pummerin bell in 1952, members of the Vienna Boys Choir indulging in a snowball fight or the remarkable clutter of Kärntner Straße in 1973.
Okamoto's pictures of such local artistic luminaries as Fritz Wotruba, Caspar von Einem, Erika Hanka or Josef Hoffmann often place the subject in amusing or more impactful poses and surrounds.
((President Johnson with Lloyd hand and Jack Valenti; press photo © Österreichische Nationalbibliothek)
A dedicated section also covers Okamoto's time with Lyndon Johnson, whether capturing the president visiting a nursing home or meeting with advisers in a swimming pool.
Though best known for his documentary photojournalism, Okamoto's work has also received due recognition for its artistic value.
Among the more art-oriented photos on display in Image Power Politics: Okamoto's 1950 shot of Harald Kreuzberger in Salzburg. The portrait appeared in the seminal The Family of Man 1955 exhibition at New York's Museum of Modern Art, which went on to tour the world (including a stop in Vienna).
Dates, tickets & tips
See Austria rise from the ashes from November 23rd, 2023 to March 3rd, 2024. A ticket for the magnificent State Hall includes the exhibition within.
For more photos of Vienna in the aftermath of WWII, try the Third Man Museum. And you can find other photo exhibitions at major venues listed on this page.
How to get there
The State Hall has its entrance on the very central Josefsplatz square (follow the link for travel tips at the bottom of the page).
That same square actually featured several times in The Third Man as the home of protagonist Harry Lime and location of his "fatal" road accident.
Address: Josefsplatz 1, 1010 Vienna