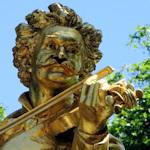 No. It's not.
(Despite what the waltz may claim.)
OK, maybe sometimes.
Really not blue?
Most of the time, no. As this photo demonstrates:
(Distinctly non-azure)
It can certainly be blue(ish). If it's a sunny, cloudless day and the Danube is relatively placid. Like in this photo:
(Possibly blue after all)
The more usual colour is a river-grey or a little muddy when rain washes soil into the waters or a storm drives up the silt.
The question is, of course, legitimate, given the name of one of the most recognisable pieces of music in history: the Blue Danube (the most famous part kicks in after around 1 minute and 40 seconds).
Johann Strauss II composed the waltz, though he didn't give it the name we most associate with the piece. His German title was "An der schönen blauen Donau", which translates literally as "On the beautiful blue Danube".
You can even visit the very apartment where Strauss wrote the work in 1866, when he lived in what is now Vienna's second district (Leopoldstadt).
The original version for choir and orchestra premiered on February 17th, 1867, to broad approval, in the Dianabad public baths (which converted to a concert hall out of season).
The Die Debatte paper described it as a "huge and deserved triumph", while Die Presse noted prophetically (my translation):
This lovely waltz with its fine mellifluous rhythms is sure to become one of the most popular of the seminal dance compositions
The music remains deeply ingrained in Viennese life. Locals know it as the "Donauwalzer" or "Danube Waltz" (nothing blue about it at all), and it invariably forms the highlight of Vienna's many balls.
Once the midnight chimes die away, the entire city (and Austria as a whole) also welcomes in the New Year by dancing to the Blue Danube. It's an irreplaceable cornerstone of the New Year's concert given by the Wiener Philharmoniker, too.
And if you attend one of the many Mozart and Strauss concerts so popular with visitors, then you're almost certain to hear the melody at some point.
Strauss's name is indelibly linked with this particular piece, even though he composed hundreds of works of music. Another Strauss waltz you hear everywhere in Vienna, for example, is the Kaiser Waltz or Emperor Waltz.
If you wish to pay hommage to the King of the Waltz, then his golden statue sits in the Stadtpark close to the centre of Vienna. And he's buried in the city, too. Strauss's grave is in the Zentralfriedhof, alongside those of Beethoven, Brahms, and other great composers.