Balloons, candy floss and carousels turn Vienna's cathedral square into an old-fashioned town fair at the Steffl Kirtag.
Imagine a Christmas market but without the Christmassy bits
50 or so booths selling handicrafts, food, and drink
Regular entertainment from brass bands
The cathedral typically offers tours and other events in tandem with the Kirtag
2024 dates: TBA (was May 18-29 in 2023)
See also:
A fair-like treat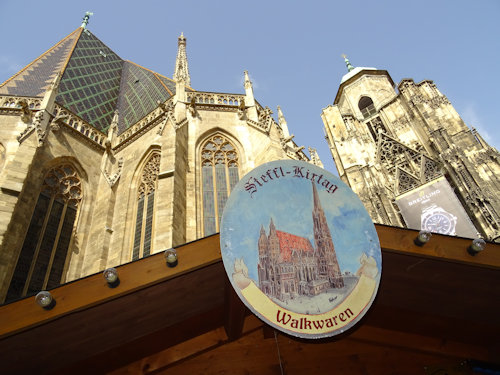 (Admire the picture, then the real thing)
A Kirtag is best described as a parish fair, typically the kind where you throw a wet sponge at the vicar for tuppence and gorge on homemade cakes and toffee apples.
Not exactly what you think of as suitable for an urban giant of a place like Vienna.
But the Kirtag is a thing here, too. Individual districts may have their own local version and the main square around Stephansdom cathedral also echoes annually to the sound of fair music and kids demanding just one more ride.
(Cathedral and carousel)
The Steffl Kirtag takes its name from the cathedral that towers over the booths: Steffl is the affectionate nickname used by the Viennese for Stephansdom. The first fair actually took place in 2002 at the 50th anniversary of the reopening of the cathedral after its post-WWII rebuild.
So what can you expect?
Think of the Steffl Kirtag as a little like a Christmas market, with arts and crafts, food, drink, a carousel, and all-round general merriment. But no Santas or pressure to buy gifts that will wrap easily and keep until December 25th.
Stands typically sell jewellery, decorative art and other handicrafts, jams and honeys to take away, Lebkuchen, pastries, chocolate-covered fruit, lollipops, sausages, candied nuts, and other mainstays of fair cuisine.
(Sausages, meat, and more)
And, of course, tuck into a whole host of traditional Viennese and Austrian fare, washed down with a glass or three of local wine or beer.
Brass bands usually add musical flair to proceedings, and each day ends with the traditional ringing of the bells to announce it's time to stop serving beer.
The cathedral plays a special role in the Kirtag, too, with services, performances and special guided tours typical during the ten days or so of the event.
2024 dates, tickets & tips
I don't have 2024 dates just yet. Watch this space or the official website. The previous Steffl Kirtag ran May 18th to 29th. Like most open-air markets and fairs, you pay no entrance fee to access the market / fair area.
How to get to the Kirtag
Don't take a car, as the Steffl Kirtag is in the largely-pedestrianised centre, where street parking spaces are at a premium and car parks expensive.
Rather conveniently, the Stephansplatz subway station (on the U1 and U3 lines) brings you out right in front of the cathedral. Or take the 1A, 2A or 3A buses to the stop of the same name.
Address: Stephansplatz, 1010 Vienna | Website