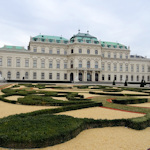 Stoic metal among baroque frescoes. Walter Pichler's Alte Figur sculpture is the latest addition to Belvedere's intriguing Carlone Contemporary exhibition series.
Features Pichler's figure and mattress sculpture from the early 1960s
Exhibited in the Carlone Hall
Curated by Stella Rollig
Entry included in a normal Upper Belvedere entrance ticket
Exhibition runs Nov 8, 2019 – Feb 9, 2020
See also:
Alte Figur – Old Figure
(Pichler's Alte Figur sculpture, courtesy of Galerie Elisabeth & Klaus Thoman Innsbruck / Vienna. Photo: Galerie Elisabeth & Klaus Thoman / Bernhard Sickert)
Vienna offers plenty of opportunity to juxtapose the old with the new. Take the Belvedere's art exhibitions, for example. Many are chock full of modern and contemporary works, but surrounded by an early 18th-century palace with much of the original decor still intact.
Nowhere is this contrast, perhaps, more pronounced and deliberate than in the Carlone Contemporary exhibition series. Every few months, a single object of contemporary art finds a space in the otherwise empty Carlone Hall of Upper Belvedere palace.
The room is a place of delight and magic, bedecked with baroque illusionist frescoes. And in the latest installment of the exhibition series, curator Stella Rollig gives us Alte Figur (Old Figure), created in the early 1960s by the sculptor and architectural visionary, Walter Pichler (1936-2012).
The sculpture only joined the Belvedere collections in 2018.
An abstract (female) figure in metal stands on a mattress, the piece representing many of the concepts that characterised Pichler's work and approach, such as the interface between life and work, as well as the harmonious interplay of space, sculpture, material, and time.
Time was almost a medium for Pichler, who was known for the long gestation period needed for completing his sculptures.
Pichler's receipt of the 1985 Grand Austrian State Prize reflects the impact and importance of his oeuvre. Other award winners include the likes of Oskar Kokoschka, Arnulf Rainer, Friedensreich Hundertwasser, and Maria Lassnig.
Nor was Pichler's impact and influence limited to his home country of Austria.
For example, New York's Museum of Modern Art once held a solo exhibition of his largely architectural drawings in 1975. The same institution featured his work in several more exhibitions, the latest being 2013's 9 + 1 Ways of Being Political alongside the likes of Ai Weiwei and Rem Koolhaas.
Dates and tickets
See Pichler's Alte Figur sculpture from Saturday, November 9th, 2019 to Sunday, February 9th, 2020.
Ticket info is here, but note that Upper Belvedere has a time slot system with a specific entry time associated with your ticket. So if you're there in peak season (like around Christmas), book in advance to avoid any delay.
The Vienna Pass sightseeing ticket should let you go straight in.
How to get to the exhibition
Follow these directions and travel tips for Upper Belvedere. Once past the ticket check, look to your right. The Carlone Hall is the first room leading off in that direction, with the Medieval Masterpieces beyond.
Address: Prinz Eugen-Straße 27, 1030 Vienna