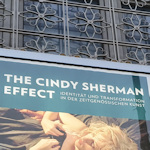 Here's an event close to my heart. When you're an immigrant like me, identity is an issue to struggle with. And identity sits at the core of The Cindy Sherman Effect, a new exhibition at the Bank Austria Kunstforum Wien.
Uses contemporary art and Cindy Sherman's photos to raise issues around stereotypes, the reality (or not) of identity, and more
Runs Jan 29 – July 19, 2020
See also:
Identity and Transformation in Contemporary Art
(Press photo courtesy of the Bank Austria Kunstforum Wien. Cindy Sherman, Untitled Film Still #58, 1980 © Courtesy of the artist and Metro Pictures, New York)
It seems barely a day passes without some new angle on our already challenged understanding of identity.
The digital age in particular has brought with it a growing inability to distinguish between what's real and what's fake, self-styled, self-deception or projected.
Not to mention the whirlpool of migration, cultural transformation, sexuality, scientific advances, media fragmentation, and all sort of clever trends that add complexity to the concept.
The Cindy Sherman Effect: Identity and Transformation in Contemporary Art takes works by the iconic Cindy Sherman, whose photos now sell for millions, and places them against those of 20 or so contemporary artists.
The juxtaposition addresses such themes as stereotypes (across various contexts) and the construction and fiction of identity.
So you get the chance to see many of Sherman's photos, specifically the often ambiguous staged photos of herself that challenge expectations and raise issues around stereotypes.
Dates and tickets
The Cindy Sherman Effect runs from January 29th to July 19th, 2020. During that time, the Kunstforum Wien should open daily from 10am to 7pm (and 9pm on Fridays). Tickets are €11 for an adult or pop in once for free using a Vienna Pass (is it worth buying?).
If you go, you might catch a smaller exhibition in the same building:
Now: on the use of photography in current artistic endeavours and featuring works from Bank Austria's own art collection
How to get to the Sherman exhibition
Follow the tips at the end of the Kunstforum article to get to the building. The exhibition takes up the main display space on the ground floor.
Address: Bank Austria Kunstforum Wien, Freyung 8, 1010 Vienna