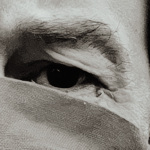 When life gives you lemons, make lemonade. A concept turned into art in more ways than one at the Wien Museum's FACE IT! exhibition.
Open-air photo exhibition, so free to view and open 24/7
Elodie Grethen's portraits of people wearing face masks
Photos accompanied by Peter Stuiber's interviews with the subjects
Interview text in both German and English
Runs Sept 10, 2020 – Jan 10, 2021
Available to view online (see below)
See also:
Portraits from Spring 2020
(Tonica Hunter, creative artist and curator © Elodie Grethen/Bildrecht 2020)
Holding an exhibition becomes quite difficult when the builders move in to completely redevelop your museum. Then throw in COVID-19, just to add another challenge to your curatorial team.
The Wien Museum's rather elegant solution to the particular bunch of lemons delivered by 2020 is to turn a construction site into an exhibition venue and a pandemic into art.
The FACE IT! exhibition uses the fence around the building site as gallery walls, presenting eighteen large-format photos by the French artist and photographer, Elodie Grethen.
The photos feature portraits where the subjects wear face masks, each shot taken sometime across the course of the initial period of the Coronavirus in Vienna: from the first lockdown through to early summer, when life began to return to normality (but not the usual normality).
Grethen took her subjects from all walks of life, but mostly those particularly affected by the lockdown. So you'll find a paramedic, doctor, teacher, carer, police officer, waitress, bus driver, supermarket cashier, and similar.
(Editor's aside: anecdotally, Austrians have been fairly disciplined about wearing face masks and we don't really have any concept of wearing one as somehow being anti-freedom. Quite the opposite, since they allow us to go about our daily business with fewer restrictions.)
(Editor's second aside: seems I was wrong. An amalgam of conspiracy theorists, far rights extremists, and others who disagree with the measures used to control the pandemic vandalised the exhibition so often that it largely moved online.)
The people photographed by Grethen also gave interviews to the FACE IT! exhibition's curator, Peter Stuiber. The results of these encounters feature on the fence, too, allowing us further insight into the experiences and opinions of individuals concerning this rather unusual time in Austrian and world history.
The stories cover both the banal practicalities of lockdown life through to more poignant aspects, such as people's fears (or lack of them).
In essence, then, the exhibition offers a snapshot of a time through portraiture. It visually captures physical change but also encourages us to interpret emotions and personality from the mask itself, from what's hidden, and from what's still visible.
On my visit, I always (and inevitably) found myself drawn to the subjects' eyes and the sight of a full face behind a glass face mask came across almost as a shocking invasion of privacy.
Dates & tickets
View the photos from September 10th, 2020 through to January 10th, 2021. Since the exhibition is open-air on a public square, you can see the photos at any time of day and require no ticket to do so (the Wiener Stadtwerke sponsor the exhibition).
Update: as mentioned earlier, the exhibition has now largely moved online.
How to get to the FACE IT! exhibition
Find the Wien Museum construction site on the eastern end of Karlsplatz, close to the famous Karlskirche church and Otto Wagner pavilion. If you go there by subway, take the Resselpark exit from the large Karlsplatz station, if you can.
Subway: the U1, U2 and U4 lines all take you to Karlsplatz, which is one of Vienna's larger subway stations.
Tram: closest tram stops are Schwarzenbergplatz (lines 2, 71, or D) and Gußhausstraße (line D).
Address: Karlsplatz, 1040 Vienna