Suffering for your art takes on another dimension in the case of photographer, Gregor Sailer. His photos of inaccessible architecture in often inhospitable regions feature in the Kunst Haus Wien's Unseen Places exhibition.
Unique aesthetics and subjects
Sailer draws attention to socioeconomic, political & environmental change
Runs Sept 15, 2022 to Feb 19, 2023
See also:
Gregor Sailer's art
(Gregor Sailer, Militärstation, Norway 2020, from the series The Polar Silk Road © Gregor Sailer, Bildrecht Wien 2022)
If you've ever put yourself through a little hardship just to catch the right shot of some building or architectural feature, then you share the spirit of Austrian photographer Gregor Sailer.
Sailer, though, takes things to a different level, as revealed in the Unseen Places exhibition. His subjects are the remote, the restricted, the abandoned, and similar.
These subjects stem in part from the photographer's interest in the landscape transformation and change that arises through environmental, political, economic and even military developments.
So we see, for example, snow-driven defence installations in Norway, subterranean industrial complexes, and fake roadscapes built for car testing.
The images seem to fall somewhere between art, documentation and creating a catalyst for broader discussion.
For example, the photos of various "Potemkin villages", such as townscapes built for military training purposes, feel like paintings.
The images possess a haunting, ethereal, even bizarre, quality. An other worldliness or almost post-apocalyptical touch of science fiction, aided by the almost total absence of people.
Staying with the art theme, Sailer's The Box photos of an abandoned underground WWII aircraft factory exude a surreal starkness.
That series, along with other images of industrial installations (both defunct and active), combine the art of photography with a historical record.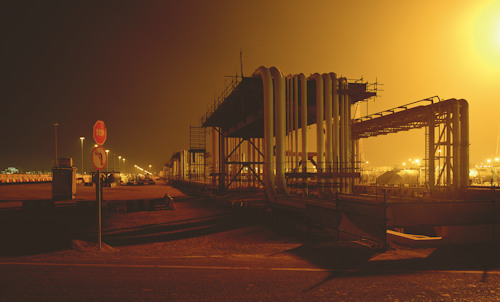 (Gregor Sailer, Industrial Site, Ras Laffan, Qatar, 2010, from the series Closed Cities © Gregor Sailer, Bildrecht Wien 2022)
But the emphasis across Unseen Places is largely on exposing us to places we can never see as private individuals and thus to the issues associated with such locations.
The series (and 2021 photo book) The Polar Silk Road, for example, points a lens at the Arctic and raises the subjects of exploitation and geopolitical tension in the region. (Not to mention global warming undermining the permafrost foundations of buildings there.)
As Sailer notes in an interview with CNN:
My job as a photographer is to go to these lesser-known places, where things that influence our society are happening, and bring these events to light
Sailer's interests can, of course, see him tackling both physical extremes and complicated administrative hurdles.
Planning projects takes years, and two display cabinets in the exhibition illustrate some of that process with photos, correspondence and other documents.
I was lucky enough to talk with Sailer at a preview and his commitment to his work is inspiring. A wonderful exhibition!
Tickets, dates & tips
Enjoy access to the inaccessible from September 15th, 2022 to February 19th, 2023.
The photo exhibitions at the Kunst Haus Wien require their own ticket, but cost only €1 if you simply add the exhibition to a ticket for the excellent Hundertwasser Museum in the same building.
Should you wish to take your own architectural photos, Vienna has plenty of historical buildings for artful images. But two areas of note for those pursuing more 21st-century joy:
The modern campus of the University of Economics and Business is an Instagram paradise (take the U2 subway to Krieau station)
Developments in and around the new Hauptbahnhof railway station (a stop on the U1 subway)
(A nice photo of contrasts is to stand at Upper Belvedere palace and look south across the lake and historical gates to the Hauptbahnhof high-rise cluster behind.)
And Vienna has another major photo exhibition across late autumn and early winter: a huge Helmut Newton retrospective at the Bank Austria Kunstforum Wien. Find more photo exhibition tips here.
How to get there
See the main Kunst Haus Wien article for travel tips.
Address: Untere Weißgerberstraße 13, 1030 Vienna