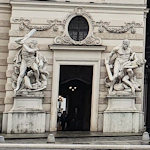 When talking with British people of a certain age, it's almost impossible to mention Vienna without someone adding something about it meaning nothing to me.
The hit song by Ultravox seared its way into our cultural memory and the video even features some familiar Viennese landmarks.
Official video includes Stephansdom, Michaelerplatz and the Zentralfriedhof cemetery
See also:
Oh…Vienna!
Dum da-dum.
It feels like only yesterday when Midge Ure's haunting chorus proved once again that unconventional and popular are not mutually exclusive concepts.
Ultravox's Vienna single, with its classical instrumentation, synthesisers and spartan lyrics, sold over half a million copies in the UK alone. The 1981 hit remains the song most associated with the band.
Not that Ultravox expected the success. In an interview with UK Music Reviews, Midge Ure recalled:
…we were quite prepared for Vienna to come out and disappear because it was too long for the radio…However, something resonated with people and, as they say, the rest is history.

(Source)
Vienna famously never made it beyond No.2 on the singles charts; Shaddap You Face beat it to top spot. History has possibly judged Joe Dolce's novelty record differently to Ultravox's iconic efforts, though.
The song title is no coincidence. Talking to the Guardian in 2017, Ure said:
Vienna was a love song to an imaginary girl. You've gone to this beautiful place, met someone and vowed it is going to continue – and, of course, it doesn't. Why Vienna?

(Source)
Video locations
(Midge Ure was here)
The second half of the official video includes location shots from Vienna itself, tapping into the melancholic, historical atmosphere that can drift through the city in the colder months.
To begin with, Midge Ure sings the chorus in front of Stephansdom cathedral (pictured above), its multicoloured roof obscured by snow.
After a brief shot of what might be a crypt in the Zentralfriedhof cemetery, we have band members emerging from the Michaelerplatz entrance to the Hofburg: the smaller gateway to the left as you face it on the square outside:
(…and here)
Two statues flank Ultravox. One shows Hercules killing the hydra, the other has him saving Hesione from a sea monster.
We then return to the Zentralfriedhof and zoom into the gravestone of Carl Schweighofer (1839 – 1905).
The Schweighofer family ran a successful piano-making business which even earned the title of official suppliers to the imperial court: Archduke Karl Ludwig, brother to Emperor Franz Joseph, attended the company's centenary celebrations in 1892.
(…and here)
You find the gravestone in the 32B group of graves, just behind the last resting places of Beethoven, Schubert, Brahms, and other famous composers. Schweighofer's grave also featured as the cover of the single.
The video ends with the band walking toward the Jugendstil cemetery church of St. Karl Borromäus (pictured above). The lighting and atmosphere carry echoes of The Third Man, which also featured the Zentralfriedhof.