What's the best location for a beer festival? If you answered "in a brewery," then award yourself a bottle of something golden and cold. In the case of the Ottakringer Bierfest, that location is the city's giant Ottakringer brewery in the 16th district.
Features Ottakringer's standard beers, craft beers, and new editions
Includes street food and other bonuses
2022 dates: Jun 30 – Sept 2
See also:
The Ottakringer beer festival
(Press photo © ALBA Communications)
As a long-time active observer of the Vienna beer scene (someone has to do it), I've become an admirer of Ottakringer, the city's main brewery.
In recent years, this independent family business has added a rather fine craft beer arm to the product palette. And the brewery premises host all sorts of excellent cultural events, such as the Vinyl & Music festival.
The pinnacle of the annual calendar is probably Ottakringer's own summer Bierfest (beer festival). I go every year with my neighbour.
The large brewery forecourt fills with tables, benches, beer tents and food stalls, all spreading out in front of a stage.
But this is not simply an outdoor beer event.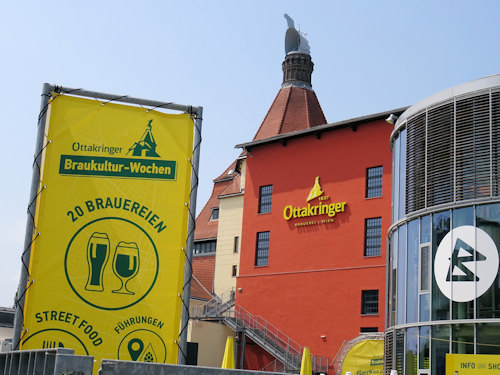 First, while you can consume Ottakringer's own standard products, their Brauwerk craft beer line produces a range of porters, pale ales, and more for you to taste.
Second, the stage serves more than just a decorative purpose, with live performances from bands and singers on Friday evenings, for example.
Third, street food stalls offer something to wash down with the beer. Think the kind of snacks and meals that fit with Austrian beer culture (perhaps sausages, schnitzel and spare ribs) with little touches of eclecticism (perhaps trout burgers and veggie burgers).
A few bonus experiences typically round off the festival, such as something called beer yoga on Tuesdays, which I've not had the pleasure of enjoying but certainly sounds intriguing. Take a tour of the brewery in English on Thursdays at 5.30pm.
2022 dates & tickets
The festival runs from June 30th to September 2nd. Opening times are Monday to Saturday, 4pm to midnight.
Entry is free, but the beer and food obviously isn't.
Look for special events that may take place on some days. For example, that Vinyl & Music festival mentioned earlier holds its Summer Nights specials here on August 12th and 13th in 2022 with exhibitors and live music.
Last time out, a few local craft beer breweries popped in now and then too.
How to get to the beer festival
The Ottakringer brewery is in Vienna's 16th district (called Ottakring), but easily reached by subway or tram.
Subway: take the U3 out to Ottakring station and walk down Ottakringer Straße back toward the city centre (or jump on the 44 tram that goes down the same street)
Tram: Take the 2, 9 or 44 trams to Johann-Nepomuk-Berger-Platz, a stop practically outside the brewery. The 44 leaves from Schottentor in the city center, for example, and the 2 leaves from various stops around the Ringstrassen boulevard that rings the old town.
Address: Ottakringer Platz 1, 1160 Vienna | Website