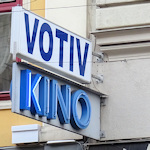 Vienna's annual Jewish Film Festival pays tribute to the rich variety of movies tackling aspects of Jewish life from around the world.
Wide mix of international Jewish cinema
Accompanying programme includes Q&As, talks, and other events
Most films in English or with English subtitles
2020 dates: Oct 7-21
See also: English-language cinemas | Film festivals
Jewish cinema in Vienna
Now approaching it's 28th year, the annual Jewish Film Festival is a truly international event, selecting its films from far beyond the borders of Austria or Israel.
And it's more than just a series of films.
After a showing, you may get to put questions to the director. Or a movie tracing the fate of holocaust survivors might be introduced by an antisemitism specialist. Or a dance film might be followed by a chance to put into practice what you've just seen on the silver screen.
For the full programme, including talks and other events around the film showings, take a peek at the festival website.
N.B. Many (most) of the films are either in English or have English subtitles.
2020 dates and tickets
The festival normally runs in May, but the 2020 dates are October 7th to 21st. Check the official website for ticket details, but typically you buy them direct from the participating cinemas.
If you'd like to explore more Jewish culture while in Vienna, then take a peek at the Jewish Vienna page. You may even find a film-related exhibition on at the Jewish Museum, such as the 2019/2020 one on Hedy Lamarr.
How to get to the cinemas
Votiv Kino
The Votiv Kino is just up the road from Schottentor station in the centre (on the U2 subway). If you prefer not to walk, go one stop on any of these trams from Schottentor: 37, 38, 40, 41 or 42.
Address: Währinger Straße 12, 1090 Vienna | Website
Metro Kinokulturhaus
This is the main home of the Austrian Film Archive, right in the centre of town. It's about halfway between the Karlsplatz (U1, U2 and U4 subway lines) and Stephansplatz (U1 and U3 subway lines) stations.
Address: Johannesgasse 4, 1010 Vienna | Website