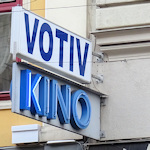 Vienna's annual Jewish Film Festival pays tribute to the rich variety of movies tackling aspects of Jewish life from around the world.
Wide mix of international Jewish cinema
Accompanying programme includes Q&As, talks, and other events
Most films in English or with English subtitles
2020 dates: Oct 7-21
See also: English-language cinemas | Film festivals
Jewish cinema in Vienna
Now approaching it's 28th year, the annual Jewish Film Festival is a truly international event, selecting its films from far beyond the borders of Austria or Israel.
And it's more than just a series of films.
After a showing, you may get to put questions to the director. Or a movie tracing the fate of holocaust survivors might be introduced by an antisemitism specialist. Or a dance film might be followed by a chance to put into practice what you've just seen on the silver screen.
2020 highlights
It's still early for the full 2020 programme, which I'll post as soon as I have information. But Crescendo should open the festival with its tale of a conductor's efforts to put together a joint Israeli-Palestinian youth orchestra.
The 2019 highlights should give you an understanding of what to expect:
The festival went under the theme of "family", but also addressed issues around discrimination, xenophobia and similar, as well as taking a closer cinematic look at, for example, Hungary's past and present.
The 2019 Israeli production, The Day After I'm Gone, opened the festival at the Urania Kino, with a podium discussion afterwards with director, Nimrod Eldar, and lead actress, Zohar Meidan.
The rest of the films all played at either the Votiv Kino or Metro Kinokulturhaus. Selected highlights included:
The Austria premiere of 2018 Mexican film, Leona, an award-winner at the Morelia International Film Festival
A Q&A session with director, Árpád Bogdán, on the current status of minorities in Hungary, with a showing of his 2018 film, Genesis
The US film, Skin, which tells the true story of Bryon Widner, a reformed white supremacist. It stars Jamie Bell, perhaps best know for his performance as the would-be ballet dancer in Billy Elliot. Director, Guy Nattiv, won this year's Oscar for Short Film (Live Action)
Showings of Skin were introduced by a talk from Andreas Peham of Austria's Documentation Centre of Austrian Resistance.
Sameh Zoabi added a lighter touch to proceedings – his film, Tel Aviv on Fire, tackles the story of a Palestinian writer on a telenovela and won the Interfilm Award at the 2018 Venice Film Festival
There was plenty of representation from Israeli cinema, of course, with, for example, 2018's Noble Savage. Actor Neveh Tzur plays a youth with an eating disorder, for which he won the Best Actor Award of the Israeli Film Academy. (And co-star, Shira Haas, won the Best Supporting Actress award).
These were just a few highlights. For the full programme, including talks and other events around the film showings, take a peek at the festival website.
N.B. Many (most) of the films are either in English or have English subtitles.
2020 dates and tickets
The festival normally runs in May, but the 2020 dates are October 7th to 21st. Ticket details available nearer the time, but typically you buy them direct from the participating cinemas.
How to get to the cinemas
Votiv Kino
The Votiv Kino is just up the road from Schottentor station in the centre (on the U2 subway). If you prefer not to walk, go one stop on any of these trams from Schottentor: 37, 38, 40, 41 or 42.
Address: Währinger Straße 12, 1090 Vienna | Website
Metro Kinokulturhaus
This is the main home of the Austrian Film Archive, right in the centre of town. It's about halfway between the Karlsplatz (U1, U2 and U4 subway lines) and Stephansplatz (U1 and U3 subway lines) stations.
Address: Johannesgasse 4, 1010 Vienna | Website