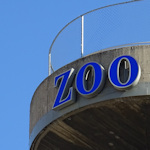 The Haus des Meeres "zooquarium" features thousands of fish and other animals and a lot of well-designed tanks and enclosures. But what should you definitely not miss?
The sharks
You need more?
Really?
Ok, then check the list below
See also:
The big fish tanks
(The Atlantic tunnel. Press photo courtesy of & copyright Haus des Meeres / Daniel Zupanc)
Several really quite impressive water tanks catch the eye. For example:
The Atlantic Tunnel lets you walk through a deep sea environment, with little shoals of fish, small sharks, rays, and even a moray eel.
The 120m2 Shark Tank mimics an indo-pacific coral environment. You can walk around all four sides and admire over 1,000 fish, including reef sharks.
The Pacific Eye offers a view into a kelp-filled sea floor with horn sharks and other denizens of the Pacific ocean. And if you've not had your fill of sharks, some hammerheads live up on the tenth floor.
Don't miss…
Cuddle a Koi (sort of)
Just beyond the ticket counter is a tank of Koi carp. Wash your hands, then trail your fingers in the water (it's OK, it's encouraged).
The fish come up for a little playful nibble and you can pet them. They're remarkably friendly. Or perhaps just hungry.
The jellyfish
(Press photo courtesy of & copyright Haus des Meeres / Günther Hulla)
Floor 2 has a simple tank filled with Cannonball jellyfish who perform a never-ending flowing dance that acts quite mesmerising.
Next to them, a large tank mimics the roiling water and shafts of sunlight found near the water surface in tidal areas – equally mesmerising!
That last example illustrates how the Haus des Meeres does more than just fill tanks with animals. Often, a display reflects a theme, ecosystem or geographical region.
Potteresque snakes
The reptile floor includes huge green anacondas like something from a 1950s adventure film, plus an albino Indian python that looks as if it came straight from the Harry Potter set.
Fans of the more venomous snake varieties will enjoy the inland or western taipan (the world's most venomous land snake), the rattlesnake, the green mambas, and other such species.
Talking venom, one floor has a small grotto with some small glass cabinets embedded into the cave-like walls. No sign of a cuddly Santa and reindeer, but plenty of tarantulas, scorpions, and cockroaches for your amusement.
Baby animals
(Woysie mother and baby. Press photo courtesy of & copyright Haus des Meeres / Dominik Moser)
I once saw baby seahorses no longer than a fingernail, and they'd give any puppy a good run for their money. Not to mention the coral breeding rack with its baby corals.
Obviously, babies don't stay babies for ever, but the Haus des Meeres sends me regular updates on the latest offspring and new additions to appear within their walls.
At the time of writing, for example, they had recently welcomed a baby woylie (brush-tailed bettong), some Cotylorhiza tuberculata, also known as the Fried Egg Jellyfish (you'd understand why if you saw one), as well as a female Guitarfish (a species of ray) and crowned hornbills (Lophoceros alboterminatus).
The tropical house
Built on the outside of the flak tower, this multi-level walk-in enclosure has wooden walkways and rope bridges, waterfalls, ponds and tropical vegetation.
Various water tanks house fish and turtles. And numerous fruit bats, brightly-coloured birds, and monkeys move freely among the visitors. The animals aren't shy, so you'll enjoy some close encounters of the zoological kind.
(The tropical house. Press photo courtesy of Haus des Meeres & © Dominik Moser)
The weird and the wonderful
And then, mixed in with all the sharks, snakes, lizards, clown fish and octopodes (oh, yes, that's another form of the plural) are the truly unusual animals. For example:
Spotted garden eels that poke up from the sea floor like little periscopes
Razorfish that swim along vertically as if someone shifted their world 90°
Japanese spider crabs that do full justice to their name
Upside-down jellyfish (ditto!)
The Haus des Meeres grows and changes all the time, so these are just a few suggestions of what to look for.
For example, they recently put in two multi-level enclosures for ring-tailed lemurs and Komodo dragons (the largest lizard species on the plant).
(The new mangrove zone that opened in late 2023)
In 2022, a 70m walk through Australia-themed enclosure opened, featuring free-ranging marsupials, birds, fish, etc.
And in 2023, a rather spectacular mangrove installation appeared with aquariums up to 35,000 litres in size.
See here for more visitor tips, directions, ticket details, etc.
P.S. One of the absolute highlights of a visit to the Haus des Meeres has nothing to do with sharks or any animals at all: go up to the roof terrace for fantastic views across Vienna and a fine restaurant.