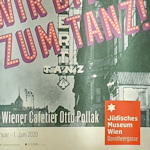 I don't visit every exhibition in Vienna, but I do visit every exhibition at the Jewish Museum. The curators always combine expertise with emotion, giving time and space to stories both familiar and untold. (And always with all information displays in English, too.)
This archive covers my experiences from past exhibitions hosted by this little jewel in Vienna's museal crown.
Selected reviews
Hedy Lamarr (2019/2020)
Most people know Hedy Lamarr as a Hollywood legend, but the exhibition revealed how much more there was to her life and character. For example, her ideas on frequency hopping contributed significantly to technological innovations like WiFi and bluetooth.
The displays included items from her son's own private collection, and the Lamarr quotes on the walls proved rather entertaining.
Ephrussi (2019/2020)
If pandemics have any silver lining, then the long extension to the Ephrussi exhibition might be one. A lovely mix of art, history and literature as the displays traced the history of the same-named leading Viennese family.
The highlight was the collection of Netsukes (miniature Japanese sculptures), including the hare with amber eyes made famous in Edmund de Waal's family memoir (he spoke at the press launch).
Otto Pollak (2020)
The Jewish Museum likes to sometimes highlight the stories of those who are not global names or whose story may have become largely forgotten. One such example is Otto Pollak.
The Let's Dance exhibition offered some insight into his life, with a focus on two aspects. First, his Café Palmhof – a music and cultural hotspot in pre-WWII Vienna. Second, his fate as a displaced Jew – forced to flee the city and eventually deported to the Theresienstadt ghetto and concentration camp (which he survived).
Café As & Simon Wiesenthal (2019/2020)
Obviously, Simon Wiesenthal needs no introduction, but this exhibition focused on a rather unexpected aspect of his experience in the Mauthausen concentration camp.
The bulk of the displays featured his designs for a coffee house (Café As) that fellow camp inmate, Edmund Staniszewski, hoped to open in Poznan after the war. The exhibition also celebrated a friendship forged in remarkable circumstances and included other biographical items from Wiesenthal's life at the end of WWII.
Renée, Spira and Porges (2019)
Vienna lost so much talent when members of the Jewish community fled Nazi oppression in the 1930s. Three of those talents were Lily Renée, Bil Spira, and Paul Peter Porges, who all went on to successful careers as illustrators and cartoonists. The exhibition covered their life and work.
(And some of the political cartoons remain as relevant today as they were all those decades ago.)
Ad:

Arik Brauer (2019)
One of the joys of life drifting around museums is discovering astonishing creative talents you knew nothing about before. Arik Brauer is a familiar name locally, but perhaps not to an international audience.
An exhibition in honour of his 90th birthday traced his biography from his days as a young lad in 1930s Vienna to today's grandee of Austrian art. It also acted as a retrospective of his endeavours in numerous fields – singing, painting, set design, and much more. As I noted in the article, his has been a life well-lived.
Kurt Klagsbrunn (2018 – 2019)
This exhibition took us from central Europe all the way across to South America, highlighting the life and work of Kurt Klagsbrunn. He cut short plans for a medical career in Vienna to escape fascist Austria for Brazil.
Klagsbrunn's depictions of Brazilian life acted as a historical record of the times, with his work featuring in such illustrious locations as Time Magazine.
Leonard Bernstein (2018 – 2019)
An exhibition as a manifestation of ambivalence and paradox. Or, more pragmatically, a fascinating look at the relationship between the Jewish conductor and a city still coming to terms with its Nazi legacy.
The Bernstein exhibition included a plethora of memorabilia and left me wondering what strength of character it must have taken for him to perform in post-war Vienna and become an adopted son of the city.
The Kabbalah (2018 – 2019)
The juxtaposition of old and new played a strong role in this exhibition on the more mystical aspect of the Jewish faith that is the Kabbalah teachings. So you had ancient texts, but also displays addressing the continuing role of the Kabbalah as cultural influencer.