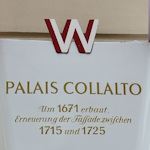 What were you doing when you were seven? Mozart was in Vienna's Palais Collalto, giving a concert for the count and his guests.
Baroque town palace built around 1671
Mozart played here in 1762
Not open to the public, unfortunately
See also: Mozart guide
The Collaltopalais
Just being old does little to recommend a building in Vienna. After all, historic palaces, churches, municipal buildings, and townhouses line the streets in the city centre.
The Palais Collalto lifts its baroque head above the masses for two reasons.
First, it's a little older than many of its architectural colleagues.
While most of the famous buildings in the old town went up in the 19th century, the Collaltopalais appeared much earlier, in around 1671. However, the facade is practically a modern abomination, dating back to as late as the early 18th century.
Even so, the building would probably be a mere footnote in history were it not for the matter of a small concert held there in October, 1762. The musician? A seven-year-old lad from Salzburg who seemed to have a remarkable affinity for music in one so young: Wolfgang Amadeus Mozart.
This was Mozart's first public appearance in Vienna, performing with his sister during their maiden trip to the city. The host – Count Collalto – even published a poem afterwards in homage to the young talent.
A few days later, Mozart famously performed for Empress Maria Theresa at Schönbrunn Palace. The self-guided palace tour takes you through the place where his father claimed Mozart leapt onto the Empress's lap, put his arms around her neck, and gave her a kiss.
Unfortunately, you cannot go inside Palais Collalto. But a plaque outside the house commemorates the historic occasion. It says (my translation):
It was in this house in the second week of October, 1762, that Wolfgang Amadeus Mozart (1756-1791) first appeared in public in the city that would become his home and destiny
(The Viennese Mozart Community 1956)
The Palais
The name of the Palais refers (obviously) to the original owners. The Collaltos were an aristocratic family long-affiliated with the Habsburg monarchy. Their name stems from that of an Italian village about an hour's drive north of Venice.
The site itself dates back much further than the baroque town palace. This area was all part of the original residential complex of Heinrich II (1114-1177), the very first Duke of Austria. His decision to relocate to Vienna effectively kick-started the city's triumphant rise to eventually become capital of an empire.
How to get to Palais Collalto
As you might imagine from its history, Palais Collalto is right in the centre…at one end of the same square that hosts a well-known Christmas market and just around the corner from the Holocaust Memorial.
Subway: a short walk from the Herrengasse station on the U3 line (or walk up the Graben pedestrianised zone from Stephansplatz station on the U3 and U1 lines)
Tram/bus: trams don't pass through the old town. But perhaps take bus 1A to Schwertgasse
Address: Am Hof 13, 1010 Vienna