Gustav Klimt's well-travelled and famous painting makes a return to Upper Belvedere for restoration, research and…a public appearance in the Special Guest: Adele Block-Bauer II exhibition.
Rare opportunity to see this privately-owned work
Exhibition also covers:

…insights into Klimt's techniques
…the history of the painting

Runs Nov 9, 2023 – Feb 11, 2024
Book Upper Belvedere tickets* online
See also:
A special guest
(Gustav Klimt, Adele Bloch-Bauer II, 1912-13; private collection, courtesy of HomeArt; press photo: Johannes Stoll / Belvedere, Vienna)
A few of Gustav Klimt's many works have managed the rare feat of impacting the global consciousness.
One obvious candidate is The Kiss, despite its relatively uneventful history.
Another is Klimt's second portrait of Adele Block-Bauer, completed in 1913. This painting, however, has a rather more dramatic tale to tell.
The portrait was one of several paintings (including Klimt's even more famous first portrait of Adele) in a complex and prominent restitution case that ended in 2006. The story attracted wide media coverage and spawned books and films.
Following the portrait's return to the Block-Bauer estate in 2006, it passed into other private hands: Oprah Winfrey bought it at auction that same year for US$88 million. She then resold it in 2017 to another private buyer for what was reported as some US$150 million.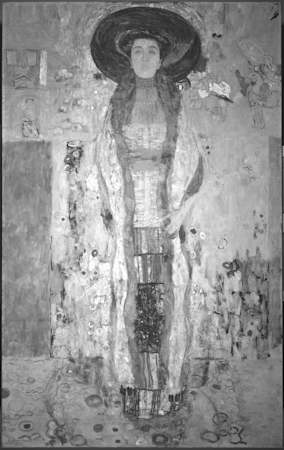 (Gustav Klimt, Adele Bloch-Bauer II, 1912-13 (infrared reflectography revealing a different preliminary composition); private collection, courtesy of HomeArt; press photo: Belvedere, Vienna)
The painting has recently been back at Belvedere for expert restoration and scientific evaluation.
This trip comes with an added bonus for visitors to Upper Belvedere: a chance to see the work in all its glory in a temporary exhibition: Special Guest: Adele Bloch-Bauer II.
(Along with Belvedere, we can thank Rosaline Wong and HomeArt for the cooperation that made this possible.)
As well as offering the chance to admire this storied work in its carefully restored vibrancy, the exhibition also provides background detail on the portrait's history and Klimt's techniques.
Belvedere's experts used imaging methods like infrared reflectography to reveal the painting's early composition.
It seems Klimt reworked his original concept significantly (an approach I also use in my cooking). An early version on canvas had its subject, for example, wearing a more flowing, expansive dress.
This is the second rare Klimt opportunity we've had in 2023/2024 following the appearance of the privately-owned Water Serpents II in the earlier Klimt. Inspired by Van Gogh, Rodin, Matisse… exhibition.
Dates, tickets & tips
Say hello to Belvedere's special guest from November 9th, 2023 to February 11th, 2024. Any valid entrance ticket for or from Upper Belvedere includes the exhibition.
(Booking service provided by Tiqets.com*, who I am an affiliate of)
Needless to say, Belvedere has other Klimt works and Klimt-related material for you to enjoy, either in the permanent exhibition or the The Belvedere. 300 Years a Venue for Art history exhibition running in the orangery at Lower Belvedere.
For more works by Klimt, check out the Klimt in Vienna page.
How to get there
See the directions page for reaching Upper Belvedere.
Address: Prinz Eugen-Straße 27, 1030 Vienna