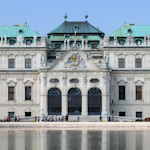 Take modern art, Chinese porcelain skills, and baroque frescoes and what do you get? Uli Aigner's contribution to the Carlone Contemporary exhibition series…
Monumental porcelain vase from Aigner's One Million project
Placed in the gorgeous baroque Carlone hall
Curated by Stella Rollig
Entry included in an Upper Belvedere ticket
Apr 12 – Nov 3, 2019
See also:
Carlone Contemporary
(Photo: Dominik Buda © Belvedere, Wien)
Upper Belvedere claims many beautiful rooms. One is the Carlone Hall, a baroque delight filled with frescoes. The hall takes it name from the painter of the ceiling fresco, Carlo Innocenzo Carlone (1686–1775), whose work also graces, for example, Palais Clam-Gallas in Prague.
Our Italian painter also gives his name to the Carlone Contemporary series of exhibitions, which places modern pieces in the baroque surroundings, allowing for an interplay between the two.
The combination of contemporary artwork with 18th-century frescoes makes for an intriguing concept, and one addition to the series is Uli Aigner's exhibition, featuring a single, monumental porcelain vessel.
With the help of Chinese potters, Aigner turned one of her colour drawings into a 2.3 m tall, 700 kg vessel, one side brilliant with colour, the other white.
Curator and Belvedere CEO, Stella Rollig, says about the exhibition:
For Uli Aigner, creating art is about a dialogue with the world, with things, with environments, and with individuals. Production and life form a single entity in her work. Exploring light and darkness in the cycle of life connects her contemporary work with the frescoes by Carlo Innocenzo Carlone.
Aigner is well known for her "One Million" project, where she seeks to create a million unique pieces of art in porcelain, each numbered individually (I've seen the artwork for sale in, for example, the MAK museum shop).
Dates and tickets
The exhibition runs from Friday, April 12th to Sunday, November 3rd, 2019. The exhibition is freely accessible with a normal entrance ticket to the palace (or a Vienna Pass).
How to get to the exhibition
See tips for reaching Upper Belvedere. The Carlone Contemporary exhibition always lives in the first room on your right when you enter the palace, at the start of the permanent display of medieval masterpieces.
Address: Prinz Eugen-Straße 27, 1030 Vienna