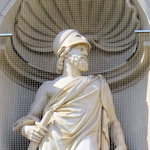 The main Kunsthistorisches Museum (KHM) in Vienna appeared as part of the extraordinary burst of construction activity that accompanied the development of the city's Ringstraßen (Ring boulevard) in the latter part of the nineteenth century.
Completed in 1891 as part of an unfinished city development project
The Natural History Museum opposite is its identical twin
Gorgeous lit up at night (and pretty impressive during the day, too)
See also: KHM tickets and opening times | Museums in Vienna
The building's history
The museum building took 20 years to complete, officially opening in 1891.
The main purpose was to house the art collected by various imperial personalities over the centuries. Given the interests, wealth, and influence of the Habsburg dynasty, that involved an awful lot of paintings, sculptures and the like.
Art of such high calibre deserved a building to match. Unfortunately, the suggestions originally proposed by various architects met with little enthusiasm.
In the end, the museum's design became dictated within a wider project drawn up with Emperor Franz Joseph's approval by Gottfried Semper and Karl Freiherr von Hasenauer. The same pair also designed the Burgtheater, another standout building bordering the Ringstraßen.
This wider project was the Kaiserforum or Imperial Forum, intended as an impressive complex of buildings and arches spanning the Ring boulevard. The art and natural history museums formed one part, designed as mirror images of one another and separated by a landscaped square.
Both museums went up according to plan, with the Kunsthistorisches Museum initially opening on Mondays, Wednesdays, and Fridays from 10am to 3pm. And from 9am to 1pm on Sundays.
The forum itself never reached completion. Money proved an issue, as did growing disinterest from the Emperor.
Any chance of finishing the whole thing effectively ended with World War I and the subsequent demise of the monarchy; the newly-formed Republic of Austria had other worries and priorities.
The architecture
The outside of the museum features a series of statues built as the personification of the arts and art history, together with representations of real people: famous artists and their sponsors.
The statues appear chronologically, beginning with the ancients at the back of the building and moving forward in time clockwise.
So, for example, at the rear of the building you'll find Alexander the Great or the Athenian statesman, Pericles. At the front, great centers of Renaissance culture like Venice and statues of artists like Titian, Michelangelo, and Raphael.
The side facing the Ring boasts representations of those modern cities already possessed of great art museums back then, like London, Paris, Madrid, and Milan.
Needless to say, the interior of the museum also reflects the splendour of its art collection and imperial sponsor.
A couple of tips for viewing this magnificent building:
Pop along after dusk and enjoy the lit-up view (see the photo below). During the Christmas season, the market on the square in front of the building adds another layer of lights (and smells and sounds).
Drop into the MuseumsQuartier, which is the Kunsthistorisches Museum's contemporary pendant and neighbour. The Libelle viewing platform on top of the Leopold Museum there gives you an excellent view of the two old museums