The MAK museum covers applied arts and contemporary art, which leads to an eclectic mix of exhibitions that have one thing in common: they're always rather good. At least, every one I've been too has been well worth the time.
This archive links to my articles on past exhibitions; the museum has many more than I find time to explore, but the below covers most of the recent big ones…
Selected exhibitions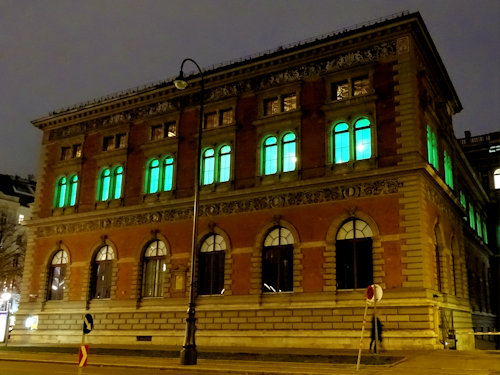 (The MAKLite light installation)
Glitz and Glamour (2023)
An exhibition that combined the beauty of glass with a remarkable ambience. A real joy to wander around. Glitz and Glamour celebrated the 200th anniversary of the founding of J. & L. Lobmeyr, still going strong as an iconic glassware manufacturer.
The displays showcased a variety of designs, styles, techniques, innovations and artistic collaborations from across two centuries. And the layout placed the vases, drinking vessels, chandeliers and more in such a way as to produce a gorgeous combination of glass and light.
Werkstätte Hagenauer (2022-2023)
A design exhibition around the Werkstätte Hagenauer craft metal workshop, which operated 1898 to 1987. The displays took us from the early days and Jugendstil work to more modern times.
As well as showcasing the artistry of the metal designs (from household items upwards), the exhibition also offered insights into production processes and the family behind the workshop. As a bonus treat, we also saw various works by Franz Hagenauer (the founder's son), a renowned sculptor in his own right.
Birke Gorm (2023)
Nine figures constructed from jute bags and scrap hid layers of themes and messages in the dead stock exhibition by Hamburg-born Birke Gorm.
Depending on your perspective, you might have focused on recycling and environmental challenges. Or issues around undervalued domestic work and women's roles. Or even colonialism. One of those lovely exhibitions that makes you think.
FOLDS (2023)
The title is not a euphemism: the FOLDS exhibition took that very concept as its subject. The result was rather intriguing, covering everything from contemporary scarf designs to an origami alien.
Most of the exhibits came from the in-house Asia design collection.
The FEST (2022-2023)
A celebration of the celebration. Or, at least, a tribute to the design creativity expressed at balls, parties, feasts, festivals and similar.
THE FEST exhibition offered a giant buffet of displays that had everything from avant garde clubbing gear to centrepieces for 18th-century table arrangements.
Majolica (2022)
The MAK has a collection of tin-glazed Italian earthenware from the Renaissance and we got to see the highlights in the Majolica exhibition.
As well as presenting the artistry of the decorated ceramics, the displays introduced historical and cultural themes around this branch of creative endeavour.
Josef Hoffmann (2021/2022)
A huge retrospective for one of the great architects and designers of modern times, whose achievements and legacy extend far beyond his notable role in the Wiener Moderne.
The Hoffmann exhibition included many items not seen before in public.
Teaching Klimt (2021/2022)
No artist appears fully formed, paintbrush in hand, mind raging with the peak of their prowess. Like everyone, Klimt had training and influences, particularly in his youthful years.
The Teaching Klimt exhibition shone an intriguing light on his time at the Vienna School of Arts and Crafts, with a focus on the themes and teachers that left their mark.
Women Artists of the Wiener Werkstätte (2021)
The famous Wiener Werkstätte formed a cornerstone of design and Viennese modernism. Most people tend to associate the artisan cooperative with Josef Hoffmann and other male names. But this was no one-gender operation.
As the title of the exhibition suggests, women artists made significant contributions, too, and the exhibition introduced us to the work of numerous names.
Alfredo Jaar (2021)
One of Vienna's more unusual claims to fame is its progressive approach to social housing. The Jaar / Red Vienna exhibition featured numerous photos of relevant city complexes, combined with one or installations by this artistic all-rounder.
To understand why these municipal construction projects deserve the description "progressive," see this quick overview of the post-WWI social housing initiative.
Sheila Hicks (2020/2021)
Given the unfortunate nature of 2020 and 2021, we were due a bit of colour in our lives. The Sheila Hicks exhibition (her first solo exhibition in Austria) delivered with its multitude of sculptures, installations and designs in fabric.
The exhibition combined "classics" of the past with more recent art, as well as works created by Hicks specifically for the display environment at the MAK. I was sorry to miss out on a visit due to the shenanigans of my pandemic life.
Adolf Loos: private houses (2020/2021)
This Loos exhibition ignored those monumental constructions in Vienna that get all the attention and focused on housing. More specifically, houses designed by one of the pioneers of architectural modernism: Adolf Loos.
The exhibition presented drawings, plans and models to illustrate Loos's approach, which saw him design homes for a range of purposes…from council housing to high-end villas.
Bakelite (2020)
The material that really kicked off the plastics revolution enjoyed a tribute in exhibition form in the second half of 2020. Robust, yet easily shaped, Bakelite opened up new artistic and manufacturing opportunities for designers and industrialists.
The exhibits drew on the Georg Kargl collection and illustrated the fields of application for Bakelite (but with a focus on those impacts on design).
Raimund Abraham (2020)
An exhibition as tribute to an architect of extraordinary vision and imagination. The Raimund Abraham exhibition placed particular emphasis on those building designs that were never expected to become reality: brought to life in the MAK through drawings, models, and more.
Ad:

Otto Prutscher (2019/2020)
For some creative geniuses, it's easier to list the fields they were not active in. Otto Prutscher was one of those stars of Viennese Modernism for whom the world formed a giant design canvas. This exhibition presented both the results of his efforts and behind-the-scenes materials (many appearing for the first time in public).
Thonet (2019/2020)
The name behind one of the most famous chairs in world history (the No. 14). The Bentwood and Beyond exhibition sent us on a journey through 19th and 20th century furniture design and explored the influential role of the Thonet company in the evolution of form, materials, and aesthetics.
SHOW OFF (2020)
Viennese fashion offers considerably more than a DJ or ball gown. The SHOW OFF exhibition might be considered a "recent retrospective." It showcased highlights from the last four decades of contemporary Austrian fashion, exploring the clothing itself, fashion as sociocultural phenomenon, and fashion education.
Kuniyoshi (2019/2020)
Certain styles remain iconic years after their time. So it is with Ukiyo-e woodcut prints from Japan. The Kuniyoshi exhibition focused on one particular 19th-century master of the art (Utagawa Kuniyoshi), but also took his work as a base from which to explore related themes, such as the role of context in understanding art, the history of art collection, and similar.
Chinese Whispers (2019)
A cornucopia of contemporary art from China drawn from the Sigg collection. Chinese Whispers covered numerous media and presented wonderful works (including by Ai Weiwei) with a particularly strong connection to their sociocultural context.
The curators added another layer of interpretation by juxtaposing historical Chinese art and design with modern creations.
Koloman Moser (2018/2019)
Another of those giants of Viennese Modernism who produced masterful art and design across genres and media – from posters and paintings to stools and stamps (I'm learning there were quite a few of these people).
The Koloman Moser exhibition examined his biography, influences, and creative evolution…all illustrated by hundreds of his works.
Beauty (2018/2019)
My first exhibition at the MAK and probably still my favourite. Beauty invited us to rediscover the inherent value to be found in beautiful design and architecture, which need not come at the expense of economy and efficiency (quite the opposite, in fact).
Innovative displays and installations that touched all the senses left me skipping out of the museum with a grin on my face.