You can find plenty of places to eat and drink on a visit to Schönbrunn Palace. But one of the more refined alternatives is Café Residenz…
Suitably-regal coffee house and restaurant in the grounds of a Habsburg palace
Also home to Strudel shows
Outside area in warmer months
See also:
A local review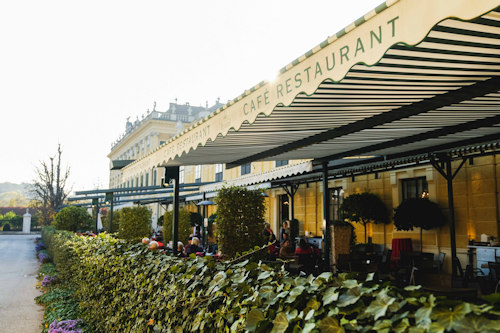 (View of the Café Resident terrace; photo © Jan Lackner)
Unlike most of Vienna's traditional coffee houses, Café Residenz is a mere youngster that started life in 1998. The building, however, dates back a little lot further.
The Schönbrunn Palace complex offered a summer home to empresses and emperors. Your average monarch needed suitable protection, and those soldiers needed their grub; they used this part of the outbuildings (known as the Kavalierstrakt) to prepare meals for the palace guard.
Café Residenz continues that gastronomic tradition. Though I suspect the comfort level and quality of the food and coffee are considerably higher than your average 19th-century guard enjoyed (possibly with more cake options, too).
Uniformed waiters have now replaced uniformed soldiers in a café that seems to echo the refined nature of its imperial neighbour.
Dark marble tabletops sit under glass chandeliers and above burnished metal and wooden stands, while paintings and photographs of old Viennese scenes line the walls and ceiling.
In the middle of it all is the counter with a vitrine stuffed with cakes from the in-house Landtmann patisserie (Café Residenz belongs to a family-owned group of coffee houses and restaurants).
And if you haven't quite taken on board the regal nature of the place, classical music played gently in the background on my visit to offer a final hint. This edges towards kitsch if you're looking for an earthy, authentic coffee house (but you're probably not here for that: try, for example, the Hawelka).
(Not a bad-looking neighbour)
Given the location, Café Residenz is not full of locals, but largely home to international guests perhaps waiting for their tour slot to arrive at the palace.
You might expect this to mean the waiting staff have no obligation to be friendly, but I found quite the opposite: they were unfailingly charming in more than one language.
I had a Wiener Frühstück breakfast, the organic soft-boiled egg done to perfection and a small jar of Staud's jam for my rolls. The butter was a touch on the hard side – 7/10 on my always-critical spreadability index. My excellent melange coffee, however, came with a lovely thick, creamy topping of frothed milk.
Aside from breakfast variations, the coffee house offered a full menu for meals and snacks. Traditional Austrian dishes dominated the selection, but with vegetarian alternatives, too.
Prices mirrored those of coffee houses in the city centre, i.e. not cheap. If you expect a quality café at Austria's most popular tourist site to be an inexpensive treat, then I have a bridge I'd like to sell you.
The café also has a lovely side tract to the main room and a large shaded outdoor area for warmer seasons.
A feeling of timelessness certainly pervaded the place: all helped by the location, of course. And during my visit, I enjoyed a little bonus experience; the baker came in, wearing her white garb and carrying a tray of freshly-made apple strudel. It almost felt like I was in the middle of an ad.
(If you time it right, you might find a Strudel show going on in the attached bakery.)
Here's my advice…
If you're going to make a day of Schönbrunn, then get up early to take some photos of the palace and gardens before the crowds arrive.
Afterwards, slip into Café Residenz for breakfast (which is when it's least likely to be busy) to get your strength up for the palace tour and heavy-duty sightseeing.
Incidentally, the owners of Café Residenz also run a café tucked away in the grounds of the palace. Landtmann's Jausenstation has a 1950s alfresco feel to it.
How to get to Café Residenz
Find you way to Schönbrunn Palace using these directions. Go through the main entrance into the giant courtyard, with the palace in front of you. Then walk around the courtyard to the left to find Café Residenz in the tract leading to the left-hand side of the palace. You can't miss it.
Address: Kavalierstrakt 52, Schloß Schönbrunn, 1130 Vienna | Website